Prior to its untimely removal from British prime time Saturday night television, The Generation Game enlightened our lives for 36 years. Following a series of farfetched tasks, which stretched from designing the decoration on a birthday cake to constructing a scale model of the Sistine Chapel, the leading contestants would be required to memorise items from a conveyer belt, before subsequently winning every item they could later recount.
Despite the prizes, which ranged from cassette players to his and hers towels, having passed before their eyes merely a minute previous contestants, clearly overcome by the hilarity which ensued from Bruce Forsyth's confusing catchphrases ('let's meet the eight who are going to generate' makes no sense), often floundered scrambling to avoid going home empty handed, instead reciting the poorer prizes, that crowd pleasing cuddly toy while slaloming the all-expenses paid camping trip to Hull.
You'd be forgiven for thinking that the selection policy for England's right back slot has taken a similar form. Steve McClaren, Fabio Capello and latterly Roy Hodgson have all suffered from missing the hidden gems and instead opting for either the crowd favourite or being lumbered with the washing machine to prevent failing to fulfill the position or fronting up to the reality of the real problematic position in the England XI.
Glen Johnson, the England and Liverpool defender is the epitome the football's cuddly toy; a novelty defender at best, an embarrassing con-artist at worst. The 28 year old defines the greatest misconception in modern-day football, that attacking instincts supersede the attributes required to fulfil a defensive role.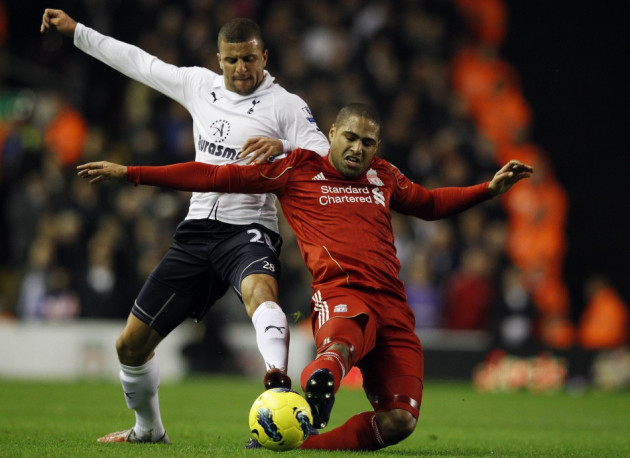 Johnson is among the most proficient full-backs in the Premier League in terms of his attacking contribution. Only Leighton Baines and Branislav Ivanovic have contributed more goals and assists since August 2008, and for many that means he's regarded among the game's finest right-backs.
Short sighting analysis is such that attacking data mean far more to the average football hipster than any other brain numbing statistic. In the same way the finest strikers are rated on how many goals they score, the best defenders are too. Logical, face palm stuff.
Little attention is paid to how poor Johnson is in the air, and that defensive positioning and the offside trap are almost alien to him. Against Tottenham Hotspur on Sunday he struggled in both areas, turning his back on Jan Vertonghen for the opener, and then laying on his back as the Belgian put the visitors in front for the first time. But he attacks well, we need only remember that.
Johnson will likely make his 50<sup>th international cap before the end of 2013, a stat made even more alarming by the fact that his closest adversary for the England right back slot is Kyle Walker.
Walker is the aforementioned washing machine of English defensive football. A cycle few can match, but when you're unable to rely on that he's all noise and no action. The 24 year old is another painful example of football fans' tendency to consider attacking attributes to be a prerequisite for the good defender.
Pace to burn, going one way at least, and an end product among the finest in the country make him an eyecatching player to watch but his defensive incapability's mirror those of Johnson. Tottenham's much documented high line was again out in full force at Anfield, and despite what must be weeks of work on the training ground, Walker is still to fathom the system, nor tailor his own style. A defender only by name, not by nature.
His dreadful pass towards his own goal which allowed Stewart Downing to equalise defined his afternoon, and in truth a season which granted has been dogged fitness issues following his summer injury problems.
It says much about the protected reputations in British sport; which allowed several members of England's already aging 2003 Rugby World Cup team to stick around for a last hurrah, that Johnson hasn't been culled from the international set up altogether.
Johnson was part of the England side which failed spectacularly in Bloemfontein, a side for which wholesale changes were demanded. Three years on, the ex-Chelsea and Portsmouth man is still learning and you fear his education at going on 30 will continue in Rio.
Walker, last season's PFA Young Player of the Year, alternatively still has time to be schooled before his career inevitably encounters a rapid decline.
Hodgson's conveyer belt of right back options isn't full of glittering names. Chris Smalling, Phil Jones, Carl Jenkinson and Micah Richards have all suffered from infrequent appearances and blighting injury troubles so it's no surprise that Johnson and Walker are looked to as the primary options; they're the ones you remember, the cuddly toy and the washing machine.