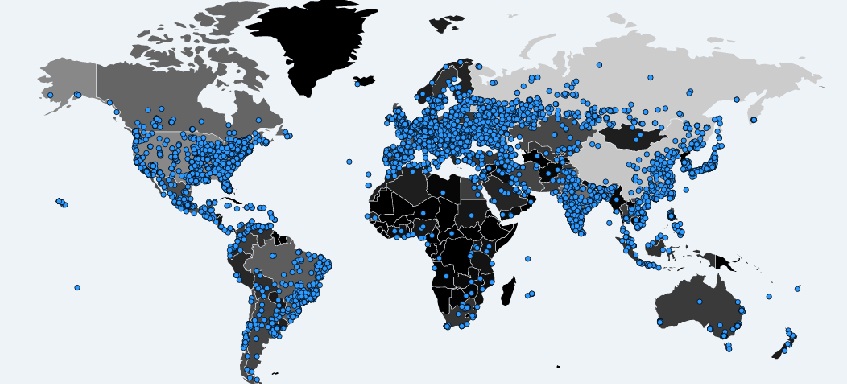 The massive global ransomware campaign launched by unknown hackers using NSA tools has affected close to 150 countries. This is being seen as the most large-scale cyberattack ever.
A security researcher going by the handle malwaretechblog on Twitter, credited with stopping the attack, said the possibility of fresh attacks could not be ruled out, but only if cybercriminals updated the ransomware or created a new strain. You can find out more about how the attacks were stopped here.
Here's the full list of countries affected by the attack as of the morning of 16 May, 2017.
Europe
UK
Scotland
Ireland
Russia
Ukraine
Bulgaria
Slovakia
Slovenia
Latvia
Belarus
Lithuania
Estonia
Romania
Bosnia and Herzegovina
Greece
Croatia
Spain
Portugal
Italy
France
Germany
Poland
Austria
Hungary
Czech Republic
Albania
Moldova
Georgia
Finland
Belgium
The Netherlands
Macedonia
Montenegro
Kosovo
Iceland
Switzerland
Norway
Serbia
Denmark
Sweden
Luxembourg
Malta
Asia
India
China
Pakistan
Afghanistan
Kazakhstan
Kyrgysztan
Tajikistan
Uzbekistan
Turkmenistan
Mongolia
Bangladesh
Sri Lanka
Bhutan
Nepal
Indonesia
Malaysia
Laos
Myanmar
South Korea
North Korea
Thailand
Vietnam
Taiwan
Philippines
Japan
North America
US
Canada
Mexico
Cuba
Honduras
Puerto Rico
Guatemala
El Salvador
South America
Colombia
Venezuela
Peru
Brazil
Argentina
Bolivia
Paraguay
Uruguay
Ecuador
Chile
Trinidad and Tobago
Africa
South Africa
Egypt
Nigeria
Kenya
Zimbabwe
Morocco
Sudan
South Sudan
Algeria
Tunisia
Ethiopia
Tanzania
Mozambique
Zambia
Mali
Guinea
Uganda
Benin
Libya
Angola
DRC
Botswana
Niger
Middle East
Iran
UAE
Turkey
Jordan
Israel
Qatar
Saudi Arabia
Iraq
Syria
Lebanon
Oman
Yemen
Oceania