The booming emerging markets may spearhead a further rise in global stock indexes despite the growth spurt enjoyed by some major Western markets since the start of the year declines.
The top 20 major stock indexes from developed and emerging markets are expected to rally led by Russia, Japan, Brazil, India and China.
Signs of an improving U.S. economy and a liquidity boost from the ECB have raised expectations for the main U.S. stock market indexes, but most of the year's gains may be in the rear view mirror after a sizable rally.
Forecasts levels for end-2012 released by Reuters in March have increased over 6 percent compared with those made at the end of December, 2011 with the median forecast for Standard & Poor's 500 at 1,427 compared with previous 1,340 representing an expected gain of 13 percent this year.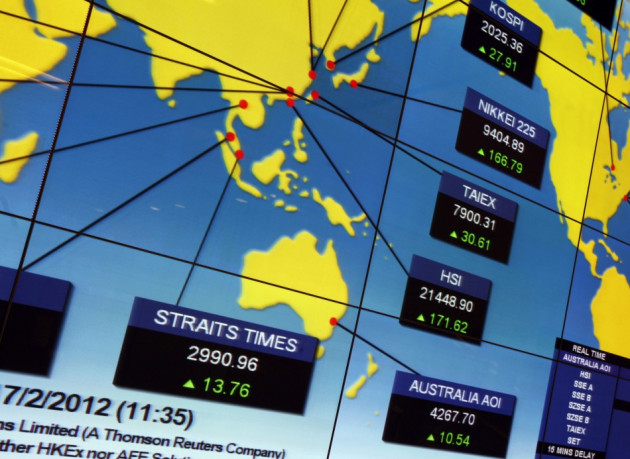 Whilst a less turbulent European debt crisis and improving global economic prospects are expected to help Britain's FTSE 100 share index rise a further 5 percent from current levels by the end of 2012 after a mid-year reverse. The median forecast given by 19 equity strategists in the Reuters survey predicted the FTSE 100 would end the year at 6,100, after falling as low as 5,695 by mid-2012.
On the other hand Japanese shares performed strongly so far in 2012, by gaining almost 20 percent. Analysts expect the Nikkei to keep gaining, finishing the year up 30 percent and snapping a two-year losing streak lengthened by the effects of the disastrous earthquake and tsunami in March 2011.
The sharp rise in Germany's DAX share index this year is set to abate after a blistering start but is still expected to end the year with a gain of 23 percent. The latest survey shows the DAX to reach 7,250 points by the end of December, 2012.
France's CAC 40 share index is predicted to gain 18 percent in 2012 as sufficient liquidity from central banks offsets moderate economic growth. A median forecast for the CAC 40 is at 3,725 points, however, individual analysts' end-year forecasts for the index range from 2,900 to 4,213.
Russian share prices this year are expected to extend the rally that has lit up the first quarter as high oil prices and hopes for reform under Vladimir Putin's new presidency encourage investors. The analysts' poll showed a median end-2012 forecast of 1,913 points for the dollar-traded RTS index, a level last seen as global equity markets began to tumble in early August 2011.
South Africa's blue-chip index may climb further 11 percent to end this year at a record high, lifted by improving prospects for the global economy. The Johannesburg Top-40 index is expected to close out the year at 33,000 points, according to a poll of 10 traders, analysts and portfolio managers.
Australia's leading share index is projected to end the year with a 16 percent gain, with momentum gathering pace in the second half on hopes for a resolution of Europe's debt woes and a U.S. recovery. The S&P/ASX 200 index is expected to reach 4,700 by the year end. Forecasts given in the poll of 12 market watchers range from 4,250 to 5,190 points.
Hong Kong's Hang Seng share index is expected to rise by 25 percent with gains weighted towards the second half as the stablising Chinese economy aids the market recovery. The Hang Seng can be seen rising to 23,000 by the year-end.
Shanghai's main share index is likely to rise by almost a quarter this year recovering 2011 losses, as revised earnings growth expectations and looser monetary policy produce the first annual gain in three years. The Shanghai Composite Index can also be seen touching 2,725 level by the year-end, according to the median forecasts of 18 strategists polled.
South Korea's main KOSPI share index is forecasted to net a 20 percent gain and the index is expected to close at 2,200 by the year-end, just shy of an all-time high of 2,231.47 reached last April, after climbing to 2,125 by mid-2012.
India's main stock index is expected to gain 26 percent this year as interest rate cuts bolster growth, but concerns about the government's finances and its political stability remain prominent risks. The 30-share BSE index will likely to touch 19,500 points by the year-end after hitting 18,000 mid-year, according to the median forecasts from a survey of 24 investment houses. End-year projections for the index range from 13,500 to 21,500.
Canadian share prices are expected to rally higher in 2012 as resource and financial stocks get a boost from the calming of the European debt crisis and further signs of economic recovery in North America. The commodity-linked Toronto Stock Exchange's S&P/TSX composite index may climb to 12,725 by mid-2012 and to 13,275 by the year-end, an 11 percent rise over last year's close, according to the median forecasts of 32 market watchers.