Gold nearing $1000 with USD at new 11-year high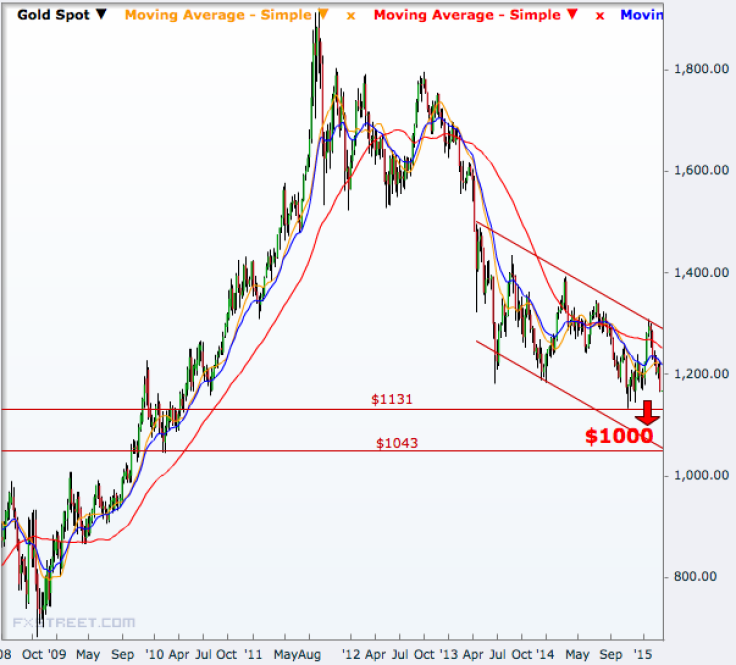 Gold has fallen to a three-month low as the dollar has jumped to a new multi-year high following the big positive surprise in US non-farm payrolls data, and technically, the metal is on track to hit the $1000-mark in the near future.
The yellow metal dropped almost 4% in the first week of March, adding to the 7.2% decline in February and further reversing the 10% gains over the previous two months.
At Friday's close of $1165, spot gold is not far away from the 2014 low of $1131 touched in November, which was a 4-1/2-year low then. A break of that will ease the journey to $1000, a big psychological level, although $1043 is the technical point to focus on.
As long as $1200 holds, the metal has risks skewed to the downside, and with the dollar trading firm, the downward thrust is even more strong.
The USD index jumped 1.35% on Friday to a new 11-year high of 97.65, and on Monday, it extended the gains to 97.78 in early Asian trade. So far in March, the index has risen 2.5%, adding to the 20% rally since July through February.
US non-farm employers added 295,000 jobs in February as per data from the Department of Labor, up from 239,000 in January and compared to market expectations of 240,000.
The second week of March has nothing major in the data calendar for the dollar other than the weekly jobless claims and February retail sales data scheduled for Thursday.
Silver also fell on Friday following the dollar move, but to a two-month low of $15.89 with a 2% drop on the day. The white metal has fallen 4.2% in the first week of this month, adding to the 3.8% decline in February.
© Copyright IBTimes 2023. All rights reserved.