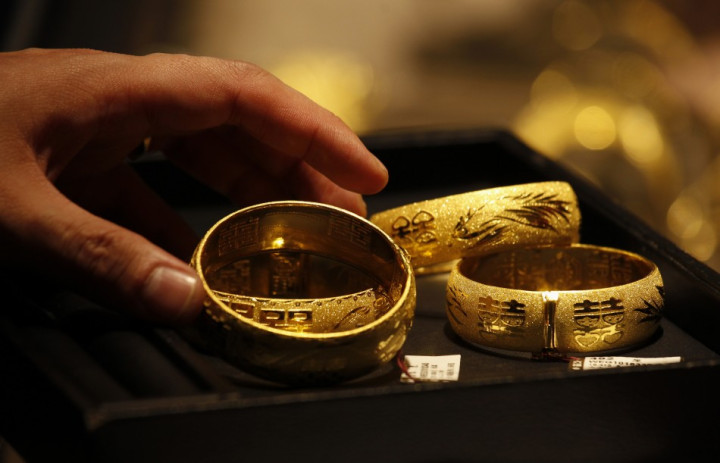 Gold prices ended higher this week, as the precious metal's allure as an investment hedge increased after downbeat US economic data poured cold water on hopes of a quick economic recovery.
Spot gold hovered around $1,377.60 (£880.76, €1032.99) an ounce, and gained about 5% in the week ending 17 August. It struck a two-month high of $1,379.60 in intra-day trading on Friday.
US gold futures for December delivery settled at $1,371 an ounce, preliminary Reuters data showed.
On Friday, economic data from the US showed that consumer confidence dropped in August and that retail sales growth remained unchanged from July. Preliminary data from a Thomson Reuters-University of Michigan survey showed that the consumer sentiment index fell to 80 in August from 85.1 in July.
In addition, US residential construction growth missed expectations in July. Housing starts rose 5.9% to a seasonally adjusted annual rate of 896,000 units. Economists polled by Reuters had expected builders to start work on 900,000 units.
Together, the three sets of data boosted the yellow metal's attractiveness.
Analysts said that Friday's economic data suggested that a recent spike in interest rates, in anticipation of the US Federal Reserve trimming monetary stimulus in September, was starting to have an impact on households.
"Uncertainty is re-entering the economy and making money managers think," Reuters quoted Carlos Perez-Santalla at futures brokerage Marex Spectron as saying.
Physical Buying
Emerging markets buy the most gold [Figure 1]. The demand for gold in India and China, the top two gold consumers, could soar to 2,000 tonnes this year, according to the World Gold Council (WGC).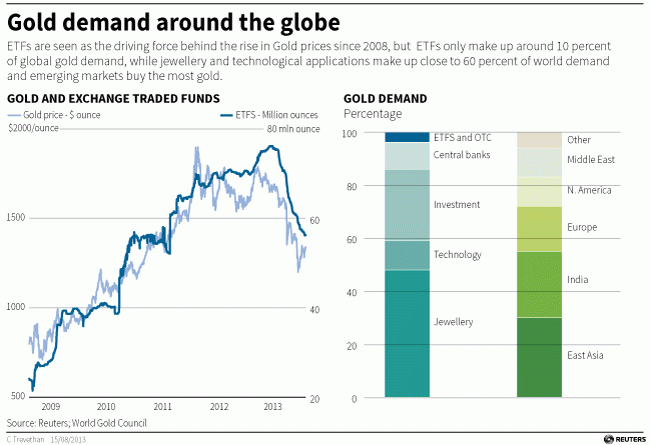 India's demand for gold jumped 50% in the first six months of 2013 and touched 566 tonnes. Separate estimates from the WGC and the China Gold Association (CGA) peg China's demand at 600 tonnes and 706.36 tonnes.
China, the leading producer of the metal, could surpass India as the world's top consumer this year if India's restrictions on gold imports do end up choking demand.
However, gold continues to be the preferred safe-haven investment option for middle-class Chinese and Indian households, and is an essential part of festivals, weddings and gift-giving in both countries.