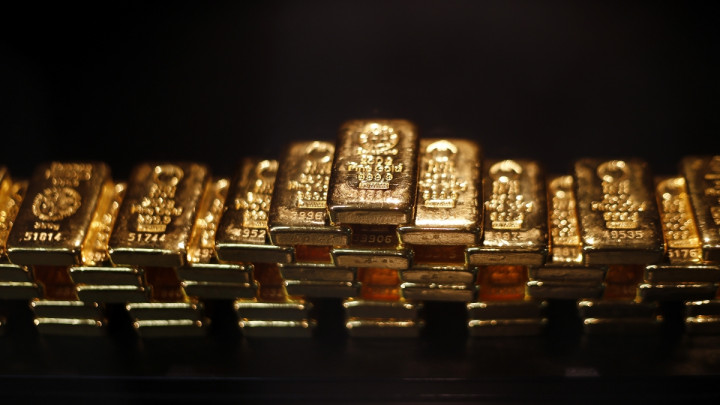 Gold prices are set to drop next week with traders expected to eye assets such as a stronger US dollar and upbeat equities after solid labour market numbers from the US highlighted a recovering economy.
As many as 12 of 22 analysts polled in a Kitco Gold Survey said they expected gold prices to trade lower next week, while seven predicted that prices will rise and three forecast prices to trade sideways.
Upbeat jobs data from the world's leading economy, which has reportedly regained all jobs lost in the recession, will also bolster the US Federal Reserve's case for a withdrawal of its monetary stimulus against a backdrop of a recovering economy, suggesting other assets could offer better returns on investment.
Gold Ends Higher
US gold futures for delivery in August shed 80 cents an ounce to finish at $1,252.50 on 6 June.
Prices gained 0.52% for the week as a whole.
Spot Gold traded flat at $1,252 an ounce on 6 June.
Gold prices steadied above $1,250 an ounce on 6 June, ahead of the widely tracked US nonfarm payrolls data, following the near 1% rally in the preceding session after the European Central Bank announced measures to boost the eurozone economy.
SocGen Very Bearish
Societe Generale on 4 June raised its short-term gold forecast, but said it remained bearish over the medium to long term. The bank said it continues to recommend selling gold rallies.
SocGen has raised its 2014 average gold price forecast to $1,272 an ounce, ascribing the increase to support from the Ukraine crisis.
However, it said gold could trade well below $1,200 in 2015 and below $1,000 in 2016 when the US Federal Reserve is "likely to hike rates at a much faster pace than currently discounted by the market".
Overall, the determination of the US central bank to "maintain the US monetary policy towards tapering and gradual but protracted policy normalisation, including rising interest rates as the economic outlook continues to improve, underpin our bearish view about the gold price in the medium term," the French bank said.
As a result, SocGen forecast gold prices to average at $825 between 2017 and 2019.