Gold prices are set to rise next week supported by improving technical charts and the elevated demand in Asia, where more shoppers are likely to buy gold ahead of the Chinese New Year at the month's end.
As many as 16 of 27 analysts polled in a Kitco Gold Survey said they expected gold prices to rise, while eight predicted that prices would drop and three forecast prices to remain unchanged.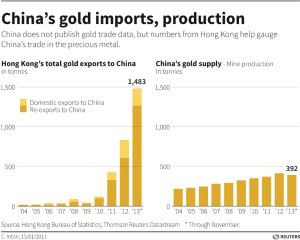 The US gold market will be closed on 20 January for the Martin Luther King Jr. holiday. However, market players would be tracking economic data coming in from China.
China, the world's leading gold consumer, will put out fourth-quarter GDP and industrial production data and together they would throw more light on the health of the world's second-largest economy.
Ken Morrison, editor of Morrison on the Markets told Kitco: "Gold has done a good job of confounding and confusing the consensus, who were nearly all convinced at year-end gold had only one way it could go: lower. But [Comex gold futures] open interest is up [over] 30,000 contracts, accompanying the rally, and technically it appears to have enough momentum to reach the $1,275 area ... [around the] 38% Fibonacci retracement of the December low and August high. I expect that can be achieved next week."
Jordan Eliseo, chief economist at ABC Bullion in Sydney, said: "I'm mildly bullish, but without much in the way of major economic data to come out between now and the next [US Federal Reserve] meeting [scheduled for 28-29 January], I don't expect markets to be too exciting one way or the other. Continued solid buying out of Asia and the relatively constructive price action of late could see gold ready for another run above $1,250."
Gold Ends Higher
Spot gold finished 0.8% higher at $1,252 an ounce on 17 January amid signals that the US economic recovery was gaining strength.
US gold futures for delivery in February finished $11.70 higher at $1,251.90 an ounce on 17 January.
For the week as a whole, futures gained 0.3%.
Prices rose 1.4% a week ago, amid speculation that downbeat US labour market data could prompt the Fed to ease the pace of its stimulus tapering this year.