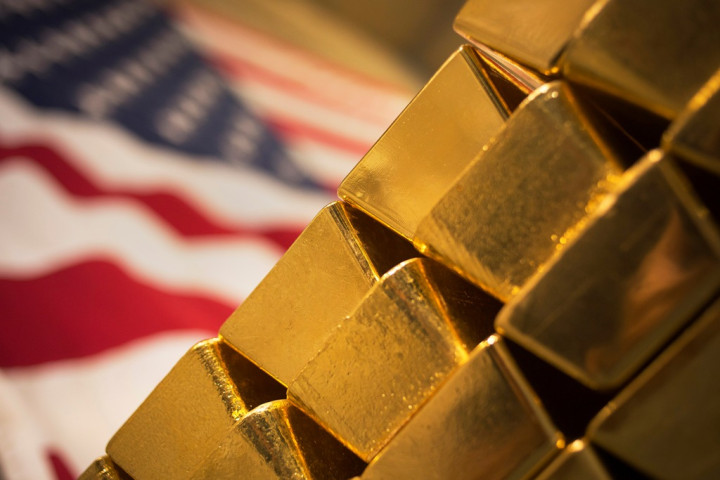 Gold prices are expected to trade sideways next week amid a lack of cues.
As many as 11 of 25 analysts polled in a Kitco Gold Survey said they expected gold prices to trade sideways or neutral next week, while eight predicted that prices would drop and six forecast prices to rise.
Traders said they do not expect prices to swing next week given that there is little economic news slated for next week and as the Russia-Ukraine dispute is not occupying headlines at the moment.
Charles Nedoss, senior market strategist at LaSalle Futures Group said: "Right now this is a pocket-picking trade. People say there are up trends and down trends, but there are also sideways trends and that's where we are.
"Eventually we'll break out of it, but it's impossible to figure out how, so you have to reduce exposure. The only thing supporting this is the Ukraine, but it's not going higher on the Ukraine."
Frank Lesh, broker and futures analyst with FuturePath Trading, said: Gold "is forming a wedge or triangle and as the trading range contracts and the longer it goes sideways the greater the breakout or breakdown should be...
"Who knows what the catalyst will be as there is enough conflicting news to confuse us all, or at least me. I see an upside breakout to around $1,360 and downside around $1,220. I am neutral until this market makes a decisive move."
Commerzbank Corporates & Markets said in a 16 May note: "The price of gold has been treading water for the last month. After having recovered initially a little in the first quarter after its slump last year, it has not been able to establish an upward trend so far."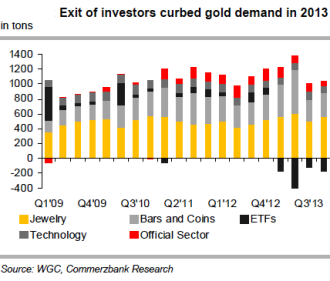 "The World Gold Council [WGC] is set to confirm in the coming week that investment demand has stabilised in the first quarter. Hardly any funds have been withdrawn from major gold ETFs in this period.
"Amid high demand for jewellery and gold bars, demand for gold should have recovered from its 4-year low.
"Although gold ETFs have reported minor outflows again recently, probably because equity markets currently promise higher returns, we see the price of gold at 1400 USD per troy ounce at year end. Indeed, low real interest rates will make gold an attractive investment again in the long term," Commerzbank added.
Gold Inches up
US gold futures for delivery in June settled 20 cents lower at $1,293.40 an ounce on 16 May.
Prices inched up just 0.3% for the week as a whole despite political turmoil in the Ukraine. A raft of upbeat economic data from the US -- positive jobs, factory and housing starts figures -- capped gains.
Spot Gold slid 0.2% to $1,292 an ounce on 16 May.
China Demand Drops
The Chinese gold demand during the Golden Week holidays that began on 1 May dropped some 30% from a year ago, according to a leading bullion exchange.
After an extraordinary year for gold sales in 2013, the situation is back to something like 2012, according to Haywood Cheung, president of the Chinese Gold & Silver Exchange Society.
While China beat India as the biggest bullion consumer last year, the buying craze triggered by a price slump in April 2013 has not been repeated.