Gold prices are set to drop further next week as the upbeat US jobs report will compel the market to focus on the strengthening US economy, the US dollar and US interest rates, in a fairly sparse week for economic news.
A stronger-than-expected January employment report has raised the probability of a June rate hike. This, and expectations of future US Federal Reserve monetary tightening, will buoy the greenback and equities, hitting gold prices.
Adam Button, currency analyst at Forexlive.com, told Kitco News that for the moment the gold market is focused on the US economy and interest rates, which he said will translate into lower gold prices in the near-term. He said he was looking for a test of the next support level at $1,221 an ounce.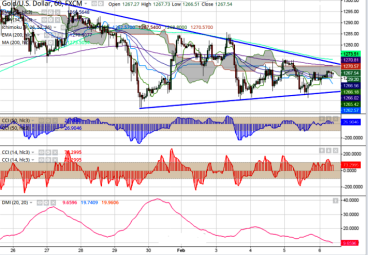 However, Button warned that the market might be too focused on the US at the moment, ignoring bullion-friendly geopolitical friction such as the growing risk of Greece exiting the eurozone.
Colin Cieszynski, senior market analyst at CMC Markets, echoed this view. But unless there is a new development in the Greece-ECB negotiations, gold will continue to focus on potential changes in the US central bank's monetary policy, he added.
Peter Buchanan, senior economist at CIBC World Markets, told Kitco that an improving US economy will hit gold prices in the near-term but added that the uncertainty in the global marketplace will provide some support.
Cieszynski said that he could see gold prices fall to $1,210 an ounce "because we have seen a significant breakdown of the technical pattern".
Ole Hansen, senior manager at Saxo Bank, told Reuters: "The negative pulls for gold are the elevated speculative positions, hawkish [US] Fed and stronger dollar, while the lowering of the reserve requirements in China, negative yields in most European countries and uncertainty in Greece lend support."
Gold drops
US gold for delivery in April finished at $1,234.60 an ounce on 6 February.
Futures settled $48.40 or 3.77% lower for the week as a whole.
Spot gold was down 2.4% to $1,234.70 an ounce at 19:02 GMT.
China's gold consumption dropped 24.7% to 886 tonnes in 2014, data from the China Gold Association showed. But output from the world's top consumer climbed 5.5% to a record high of 451.8 tonnes.