Gold set to rise with metal expected to build on the week's gains
Traders to track the US Federal Reserve's FOMC meeting and dollar movements next week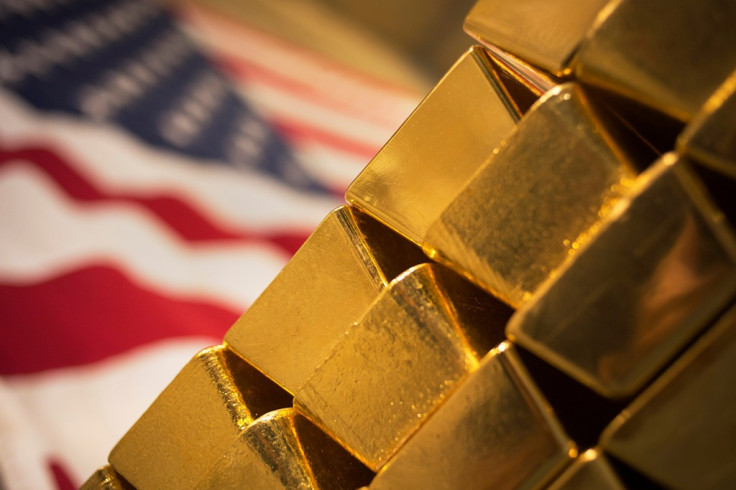 Gold prices are set to rise next week with the precious metal expected to build on this week's gains.
As many as 10 of 21 analysts polled in a Kitco Gold Survey said they expected gold prices to trade higher next week, while six predicted that prices will drop and five forecast prices to trade sideways.
Traders will be tracking general elections in Japan on 14 December to see how results impact the yen.
But the big event next week is the US Federal Reserve's last FOMC meeting for 2014, scheduled for 17 December.
US Fed Policy
There has been talk as to whether or not the Fed will change its forward guidance and drop the phrase "considerable time" in the December policy statement. Nomura analysts expect the Fed will replace those words with another suggesting that rate hikes are not imminent.
Robin Bhar, head of metals research at Société Générale, told Kitco that gold traders will watch for any hints in the Fed's language and will also be tracking the US dollar's movement after the Fed's statement.
Demand for dollar-denominated commodities such as gold typically weakens on a stronger greenback as it makes the metal more expensive for holders of other currencies and also lowers its hedge appeal.
Ralph Preston, principal, Heritage West Financial said: "I anticipate a breach of $1,240 and a run on the 200-day moving average at $1,271.60 before year's end. That would put gold prices up on the year and poised to move much higher into 2015."
Kevin Grady, owner, Phoenix Futures and Options, said strong buying remains under the market, which he said was keeping gold prices from falling with crude oil. "The next big upside target for gold is $1,239.60, which is the 50% Fibonacci retracement level from the July high to the November low.
"We've failed at that area twice… The key for gold is to take out that $1,239.60 area," according to Grady.
Gold Ends Higher
US gold futures for delivery in February fell on 12 December and finished at $1,222.50 an ounce. But prices gained 2.7% for the week as a whole on renewed buying interest.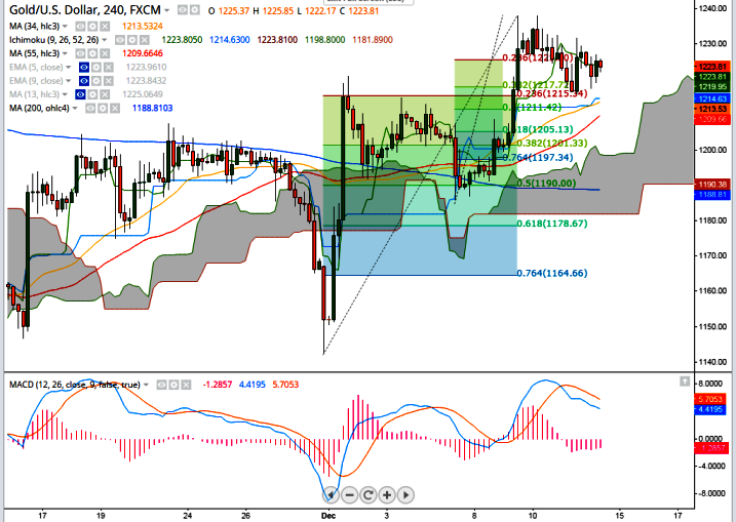 Gold intra-day trend at 11:41am (GMT) on 12 December
FxWire Pro
A weakness in the equity markets, pulled down by falling oil prices, boosted the metal's safe-haven status.
In addition, a drop in the greenback made dollar-priced gold cheaper for other currency holders.
Spot gold was last down 0.8% at $1,218 an ounce.
Gold Trading
Commodities house Gunvor Group will abandon trading in physical precious metals less than a year after it started the business devoted to the buying and selling gold, Bloomberg reported.
Gunvor executives decided to give up the precious metals trading business partly because of difficulties in sourcing steady supplies of gold, where the origin could be well-documented, the report said.
Gunvor, the world's fifth-largest oil trader, will continue to trade base metals, including copper and aluminum, alongside commodities such as iron ore, coal and natural gas.
© Copyright IBTimes 2023. All rights reserved.