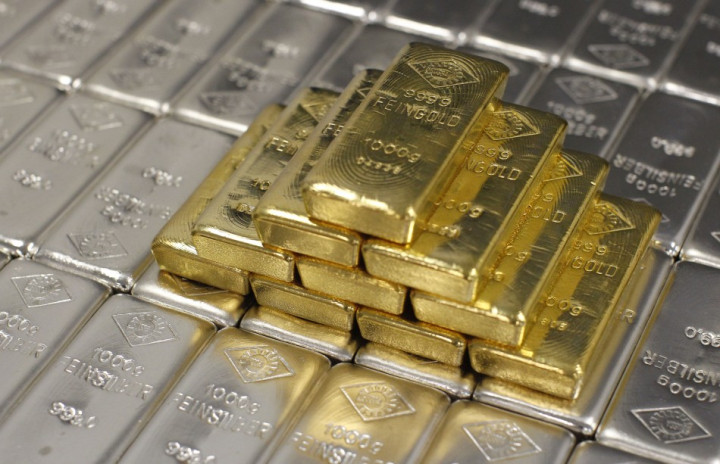 Gold and silver broke key support barriers and fell to four-year lows on Friday as the US dollar rallied and a surprise easing move by the Bank of Japan bolstered flows to riskier assets.
The spot delivery gold fell 2.6% on the day to $1166/ounce, its lowest since August 2010. The yellow metal looks headed for its steepest weekly loss in more than a year, and is down 5.2% so far on the week.
Last year's multi-year low of $1180, touched in June, was not broken until Friday, despite the two attempts - in January and early October this year - that had taken the metal close to the support level.
Silver too followed the track of gold and plunged to a 4-year low of $15.95/ounce. The white metal had broken the key support of $18 last month itself and had touched a low of $16.64 early this month, which is now broken.
The ending of the quantitative easing by the US Federal Reserve and the Bank of Japan's decision to further stimulate the economy have pushed the dollar to new highs, eroding the value of other safe havens like gold.
Stocks generally rallied across the globe on Friday. Japan's Nikkei 225 was up 4.8%, Chinese and Hong Kong indices were up 1.2% while major Indian stock indices were up 1.5%.
Silver now technically targets the $15.22-14.63 area ahead of the psychological barrier of $10. Gold's next target would be $1,150 ahead of $1,043 and the psychologically important $1,000 mark.
BoJ Move
Citing deflation risks, the BoJ said it will purchase more shares of exchange-traded funds and real estate investment trusts and extend the duration of its portfolio of Japanese government bonds (JGBs).
The central bank also said it will expand the monetary base by 10-20tn yen to 80tn yen, as it sees continued downside risks to price pressures.
The Japanese yen fell to a near seven-year low of 110.70 on Friday following the decision, adding to the strength of the US currency, which had seen hawkish GDP data in the previous day adding to Wednesday's gains triggered by the FOMC.
Dollar Rally
The USD index, a gauge that measures the strength of the US dollar against a trade weighted basket of major currencies, jumped 70 points to 86.73, almost matching the multi-year high of 86.74, touched in early this month.
EUR/USD fell to 1.2559 on Friday from the previous close of 1.2614, getting closer to the two-year low of 1.2500 touched on 3 October.
GBP/USD slipped to 1.5969 from 1.6001. The pound is nearing the 11-month low of 1.5875 touched early this month.