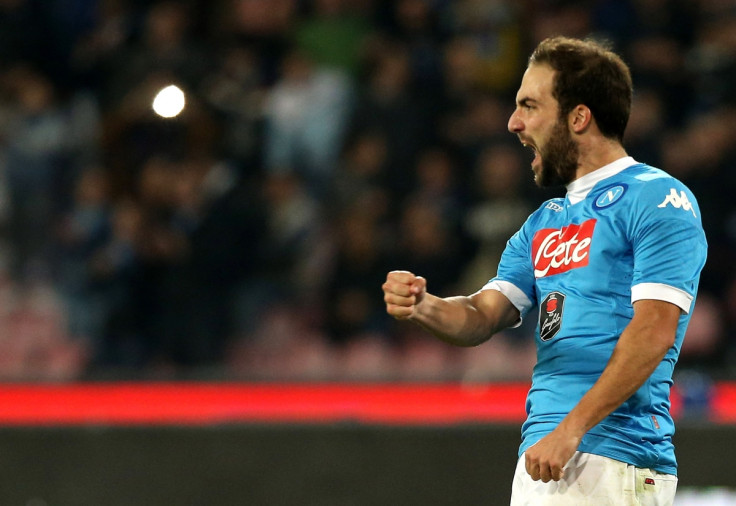 Arsenal have been told to pay £80m ($106m) if they want to sign striker Gonzalo Higuain from Napoli.
A source close to the Italian club told BBC Sport there were no direct offers from Arsenal for the Argentina international.
"Only by meeting the release clause of €94m will the player leave Napoli. Otherwise Higuain will stay for the remaining two years of his deal," the source said.
Reports on 12 July suggested that Gunners boss Arsène Wenger could include Olivier Giroud as part of a swap deal to sign Higuain.
Giroud's agent added fuel to the rumours by suggesting that Napoli and Italian football would be a good fit for the French striker.
"There would be no fear for Olivier to go to Napoli, as we're talking about a magnificent place," Mickael Manuello was quoted as saying by ESPN.
"In Naples, my client could have a wonderful lifestyle, not to mention that Maurizio Sarri's style of football would get the best out of a striker like him."
Higuain scored 36 goals in 35 Serie A games for Napoli last season and has also been linked with moves to Chelsea, Liverpool and Paris Saint-Germain.
Napoli president Aurelio De Laurentiis told the Corriere della Sera newspaper last month that Higuain would stay at the Stadio San Paolo next season.
"He is young and his family has high moral values. I have the feeling he will not betray us," he said.
"And I have not received any offer equalling the value of the buy-out clause of €94m.
"Even in the case of a club offering that sum, he could still remain, because there is no other team that can offer him the passion and the importance that he is receiving here.
"[Diego] Maradona entered the world's football history thanks to Napoli, and Higuain should understand that there is no context in which he would be appreciated like he is here," De Laurentiis added.