It has been 14 years since Google started answering our queries and today the search giant is celebrating its 14th birthday with a cake and candle doodle animation on its homepage.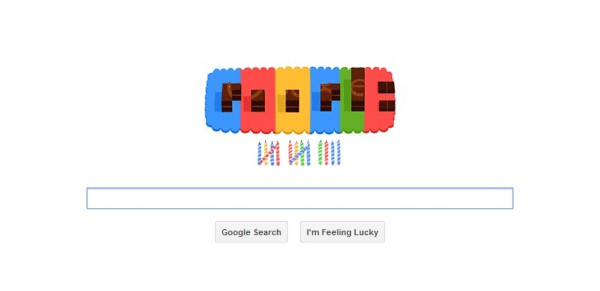 The chocolate cake has 14 candles on it. In the animation the candles blow out and the name Google appears on top of the cake. The candles then appear below the cake as the tally marks to denote number 14.
Clicking on the logo displays the various Google products.
Google's birth date however, is disputed. Till 2005 the company used to celebrate the day on 7 September, three days after it filed for incorporation on 4 September, 1998.
But since 2005 the company has opted for 27 September as its birthday.
In 2011, Google had come up with a nostalgic visual for its 13th birthday celebrations.
The company was started by Larry Page and Sergey Brin with the objective of "to organise the world's information and make it universally accessible and useful".
In the fourteen years since its inception, the firm has grown beyond search engine expanding its business interests to cloud computing, software and advertising. It offers email services, office suite, a mobile platform and even a desktop operating system based on its lightweight browser Chrome.
Its growth included acquisitions of many small companies which it later developed into its own products. Significant among them are Keyhole, a digital mapping firm which paved the way for Google Earth and the online video site YouTube.
Google fans are sending their birthday wishes through social networking sites such as Twitter.
"Happy 14th Birthday Google! Thank you for being there whenever I need you. Homework! *cough cough* Projects! *cough cough*: D," tweeted a user while another user added in a more sardonic note "Happy Birthday Google - How could I possibly procrastinate without you?"