Google antitrust: EU charges search giant over comparison shopping and investigates Android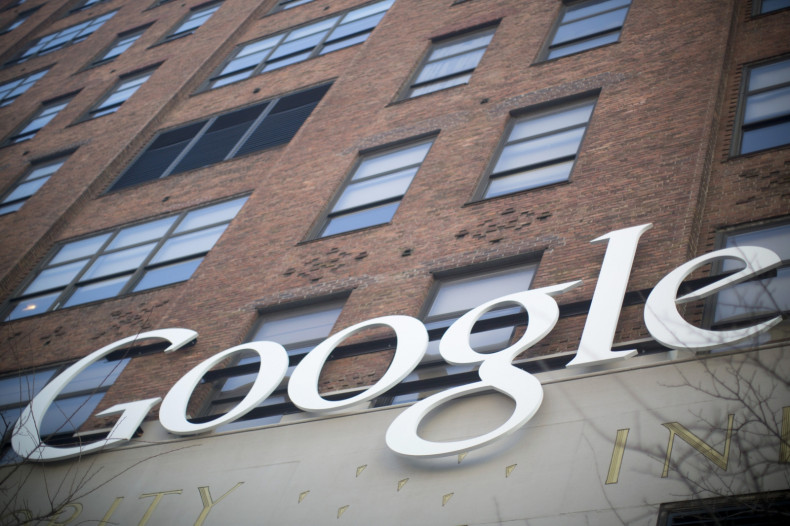 Google has been formally charged by the EU's competition authority for what the regulators call the systematic favouring of its own comparison shopping product in its own search results pages.
The formal publication of the Statement of Objections comes after much speculation in recent days about the charges, with Google even taking the step of sending a memo to its employees to reassure them that the search giant had "a very strong argument" to counter the competition authority's claims.
The publication of formal charges is just the latest step in an investigation which has been on-going since 2010 into a number of aspects of Google's practices in Europe.
EU competition chief Margrethe Vestage said she is "concerned that [Google] has given an unfair advantage to its own comparison shopping service, in breach of EU antitrust rules. Google now has the opportunity to convince the Commission to the contrary. However, if the investigation confirmed our concerns, Google would have to face the legal consequences and change the way it does business in Europe."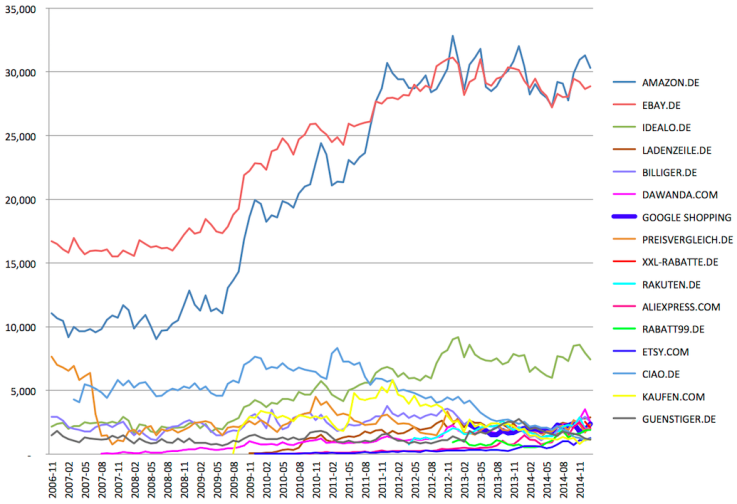 Google claims that its own services have not negatively impacted rivals, such as shopping sites Amazon and eBay in Germany
Google
In a blog post published in response to the charges being filed, Google's head of search, Amit Singhal, said the company "respectfully but strongly" disagreed with the need to issue a Statement of Objections and looks "forward to making our case over the weeks ahead".
To back up its claims that Google Shopping has not harmed rivals, it has produced a series of graphs which show services such as eBay, Amazon, Etsy and booking.com in countries such as France, Germany and the UK have not been adversely affected by the launch of its service.
The formal charges lay out the EU's issues with how Google allegedly promotes its own services over rivals. The authority's preliminary conclusions are [emphasis the EU's]:
Google systematically positions and prominently displays its comparison shopping service in its general search results pages, irrespective of its merits. This conduct started in 2008,
Google does not apply to its own comparison shopping service the system of penalties, which it applies to other comparison shopping services on the basis of defined parameters, and which can lead to the lowering of the rank in which they appear in Google's general search results pages.
Froogle, Google's first comparison shopping service, did not benefit from any favourable treatment, and performed poorly.
As a result of Google's systematic favouring of its subsequent comparison shopping services "Google Product Search" and "Google Shopping", both experienced higher rates of growth, to the detriment of rival comparison shopping services.
Google's conduct has a negative impact on consumers and innovation. It means that users do not necessarily see the most relevant comparison shopping results in response to their queries, and that incentives to innovate from rivals are lowered as they know that however good their product, they will not benefit from the same prominence as Google's product.
Penalties
The next stage of the process will see Google being given the chance to formally respond to the allegations against it, a process which could take up to two years according to the search company.
If the Commission is not appeased by these responses, then it can fine Google, with some claiming the fines could be as much as $6.4bn or approximately one tenth of the company's annual revenue. It could also force Google to change the way it operates in the EU.
These penalties can however be appealed by Google, extending the process even further.
Android investigation
The Commission has separately opened an investigation into the Android operating system which is far and away the dominant smartphone operating system globally, with over 80% of the market.
The investigation will look at whether Google has illegally hindered the development and market access of rival mobile applications or services by requiring or incentivising smartphone and tablet manufacturers to exclusively pre-install Google's own applications or services.
Vestage said: "Smartphones, tablets and similar devices play an increasing role in many people's daily lives and I want to make sure the markets in this area can flourish without anticompetitive constraints imposed by any company."
Google's Hiroshi Lockheimer, who is vice president of engineering for Android said: "We are thankful for Android's success and we understand that with success comes scrutiny. But it's not just Google that has benefited from Android's success. The Android model has let manufacturers compete on their unique innovations. Developers can reach huge audiences and build strong businesses.
The investigation will also look at whether or not Google has hindered the development of certain flavours of Android which have been developed by refusing to allow them to use Google's services such as the Play store, Maps or Gmail.