Internet giant Google will continue to dominate the search ad market, where spending worldwide is estimated to reach $81.59bn (£55.12bn, €75.74bn) in 2015.
Research firm eMarketer said Google would see 15.7% search ad revenue growth in 2015, increasing to $44.46bn worldwide. The amount is equivalent to 54.5% of the global search ad market in 2015.
The second on the list is Chinese search provider Baidu, whose market share is expected to rise to 8.8% in 2015 from 7.6% in 2014.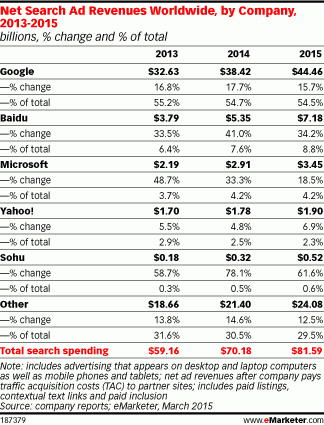 Baidu's success in China has been boosted by strong ecommerce growth in the country, expanding out of major cities like Beijing or Shanghai to third- and fourth-tier cities.
Search ad spending in China will total $14.90bn in 2015, up 32.8% from 2014, which accounts for 18.2% of all search spending worldwide. By comparison, the US search ad market will reach $25.66bn in 2015.
Microsoft and Yahoo will take up 4.2% and 2.3%, respectively.
Recovering from its weakness in search ad market, Yahoo is expected to see a 6.9% uptick in search revenue growth in 2015, following 4.8% growth in 2014, according to eMarketer.
EMarketer said search ads will account for $81.59bn worldwide in 2015, an increase of 16.2% over 2014, as digital ad spending will reach $170.85bn.
By 2019, search ad spending will reach $130.58bn globally, representing an average 10% year-on-year growth.