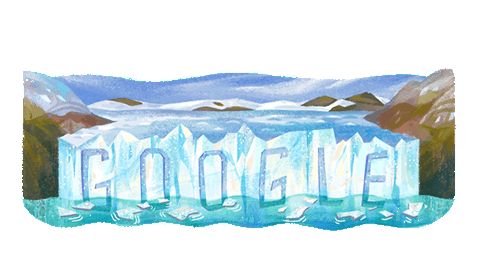 The peaks of one of Argentina's most spectacular natural attractions have been honoured in Google's latest Doodle.
Exactly 80 years ago, on 11 May 1937, Los Glaciares National Park was established as one of South America's largest national parks.
As its Spanish name suggests, the park contains 47 large glaciers which begin at lower altitudes than comparable ice structures in other parts of the world.
Glaciers are formed when snow collects and packs together.
In an era of global warming, most glaciers around the world are retreating. Unusually, Los Glaciares National Park has one of the world's few specimens, Perito Moreno, that is actually growing. It covers an area of 230 square km, with a front of 5 km, and its terminus flows into the country's largest freshwater lake.
On the park's northern boundary are a number of mountains, including Mt Fitz Roy. Declared a Unesco World Heritage Site in 1981, many visitors come to hike across the glacier and take in the vistas of Los Glaciares.
Unsurprisingly, Argentina's neighbour, Chile, has staked a claim for the park, and the two countries hope that an international agreement can be put in place on the location of the border.