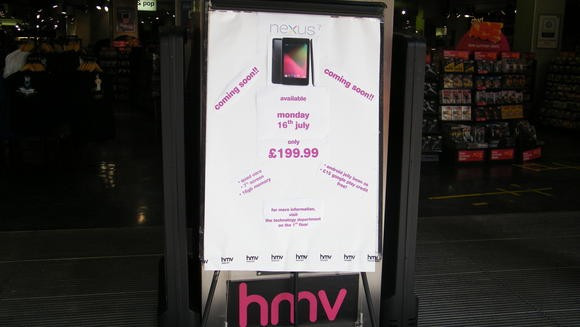 Recent speculation concerning the release of Google's Nexus 7 tablet notwithstanding, it comes as a pleasant surprise that HMV stores in the UK have confirmed the stock availability of the tablet from 16 July. The Jelly Bean tablet will come in 16GB storage version and be available for a bargain deal of £199.99.
Though the internet is abuzz with rumours of the tablet release rising over the past week, Google has upheld secrecy over its product release date. Earlier this week, Google's flagship smartphone received the Android 4.1 Jelly Bean update, following the announcement of the company's first Android tablet also featuring Jelly bean onboard.
TechRadar reports that HMV has put up a signboard outside their flagship store, which says the 16GB edition of the tablet will go on sale at the start of next week. This should clear any doubts in the minds of potential consumers, who are eagerly awaiting the tablet's release.
The Nexus 7 tablet was announced two weeks ago at Google's I/O Developer's conference alongside the launch of the latest Android software update - Jelly Bean. The new Android update is also expected to feature with the 8GB tablet version at £159 ($199).
The model posted by Currys a few days earlier, features a quad-core NVIDIA Tegra 3 processor and 1GB of RAM. The 7-inch Gorilla Glass-covered IPS display boasts visuals at a 1280 x 800 high definition resolution, and the tablet also features a 1.2-megapixel front camera for video chat.
According to gadgethelpline, HMV is presently taking pre-order enquiries concerning the advertised release date of 16 July for the Google Nexus 7. However, the advertisement information pertains to the release of £200 16GB model, while there is still no word on the £159 8GB version. The addition of slick and smooth Jelly Bean OS on a power-packed Nexus 7 hardware should make for an irresistible treat to tech enthusiasts.