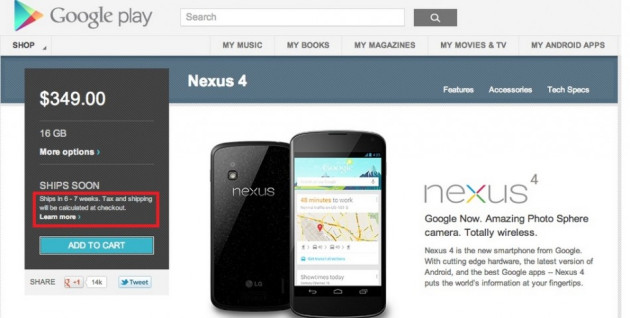 Google Play Store has been struggling to keep up with demand for the Nexus 4 for several days, and the situation seems to be worsening with no immediate stock available from its maker, LG. This is fast turning into one of the worst organised launches for a Nexus product.
After a brief out-of-stock scenario, the elusive Nexus 4 went up for sale earlier this week on the Play Store, with an estimated delivery time of 1 to 2 weeks. Lucky users who placed their order during this time may receive their new smartphone within the specified time limit.
But, as The Android Soul notes, within hours of stock renewal, the Play Store's shipping estimate had doubled to 3-4 weeks, and then quadrupled to 4-5 weeks within 24 hours. Anxious prospective buyers have reportedly been shocked to witness the steadily climbing delivery timelines every time they log on, and are starting to wonder if it is really worth the wait.
Disappointed buyers might just flock to retail outlets and pay more for the device. Leading online retail marketplace eBay has already tagged the Nexus 4 as a high-demand object, enforcing strict criteria on seller eligibility for listing the device.
It is disappointing to note that although Google has come up with a ground-breaking device, it has apparently put less thought into the retail side. The reason for the demand-supply gap is still unknown, though it seems that both the device maker and the mobile software giant were unprepared for the success of the device.
Check Play Store Availability for Nexus devices with Nexus Checker App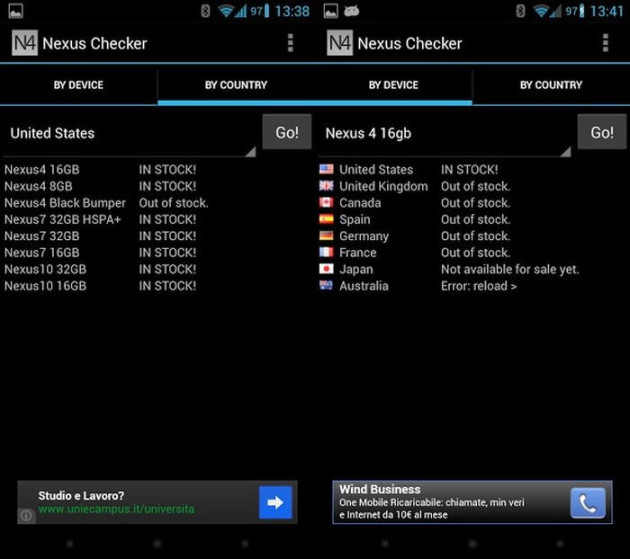 With due credit to Nexus Checker app developer Claudio Mezzasalma, Play Store users can now check the availability of Nexus devices at their fingertips. The app is customised to display availability by country, as well as by device type or model name.
The app is available as a free download from Google Play Store.
Download Nexus Checker from here