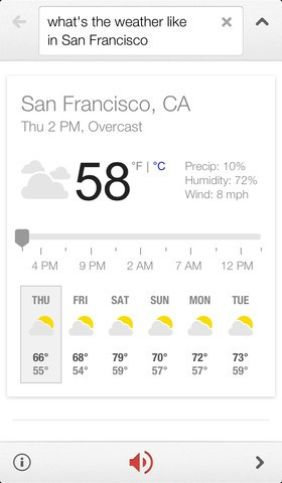 Google has updated its Search App for iOS which is now made available in the App Store. The update reportedly brings enhanced voice search capabilities to iOS. The iPhone 5 users can now download the app for free via App Store. Users will now have the ability to use their natural language in order to control Google Search, in addition can listen to the app dictate the results of their query, according to Cult of Mac.
"Upon trying the app out, we were rather shocked at how well it performs - over both Wi-Fi and cellular data, the app captures your speech extremely quickly and with a high degree of accuracy," claims The Verge. However, according to report, though the app may not answer users' query via natural speech like Siri does, but it reportedly shows up search results that will be relevant to the query with a high speed.
Check out the official release notes on the update:
Improved Voice Search
Simply say what you want and get results without typing
Faster and significantly improved voice recognition with text streamed on the fly
Other Google Search app features
Faster: get to search results faster than by searching from a browser
Beautiful full-screen image screen
Swipe away webpages to quickly return to search results
Search within a webpage using the built in text finder
Google Goggles: Snap a photo of what you see to find more information about products, landmarks or famous paintings, and even solve Sudoku puzzles
The new Google Search app is integrated with Google apps and services such as YoutTube and Maps. The app adds support for the iPhone 5's giant display, suitable for the iPad as well.
Reports suggest that the new version of the Google Search app could have an edge over Apple's Siri because of its improved features in regard to the natural speech.