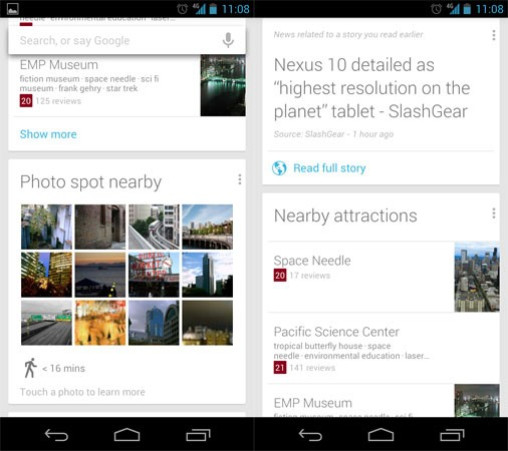 Google has updated its Google Now and Google Search by bringing new features on the Google Play Store. Android Authority lists the new features which include the improvements such as the ability to add calendar events, stocks, new updates, nearby photos, packages and other events.
Google Play notes about the changes in Google Search in detail. Here is the changelog.
For Android 4.1+ (Jelly Bean), Google Search is faster plus:
Google Now works with Gmail (English only)
Flights
Restaurant reservations
Hotel confirmations
Events
Packages
New Now cards: nearby attractions and photo spots, movies opening in theatres, concerts and more
New voice actions: launch apps, schedule meetings and check when your next appointment is
Google Now puts you in control at any time, adjust or turn off individual Now cards within settings.
"Not only is Google striving to integrate important features from the new version of Android into the earlier 4.1 version, the new features will all converge to help Google reach its ultimate goal - bringing you information before you even ask," claims The Verge.
Google Search has been an easiest way to find what a user needs on the web and on his/her device. Users can quickly search the web on the phone or tablet. In addition, one may use voice to search the required information and can get personalised results based on one's location.
Google Now will reportedly fetch you the right information at the right time. It will help the users to manage their day, stay connected as well as to be local anywhere, which means no matter where the user is, he can find interesting places or activities and can get around easily.
"It tells you today's weather before you start your day, how much traffic to expect before you leave for work, when the next train will arrive as you're standing on the platform, or your favourite team's score while they're playing," explains Google.