Novartis will use technology created at Google X to create contact lenses which will help monitor a wearer's glucose levels
Healthcare specialist Novartis has announced a licensing agreement with Google X and will begin developing contact lenses which can monitor the glucose levels of wearers to help diabetes sufferers to manage their condition.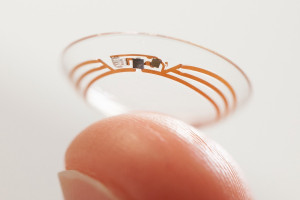 "Our dream is to use the latest technology in the miniaturisation of electronics to help improve the quality of life for millions of people," Google co-founder Sergey Brin said. "We are very excited to work with Novartis to make this dream come true."
The contact lenses will be manufactured by Novartis' eye care division Alcon, who will "collaborate [with Google] to develop a 'smart lens' that has the potential to address ocular conditions."
In January Google announced it had developed a smart contact lens which uses chips and sensors the size of glitter to monitor the glucose levels of diabetes sufferers.
"We are looking forward to working with Google to bring together their advanced technology and our extensive knowledge of biology to meet unmet medical needs," said Novartis CEO Joseph Jimenez. "This is a key step for us to go beyond the confines of traditional disease management, starting with the eye."
Wireless
Created by the company's Google X skunk works division - best known for developing Google Glass - the search giant said the smart contact lens can measure the wearer's glucose level once per second using a tiny wireless chip and sensor embedded between two lenses.
As well as helping diabetes patients manage their disease, the smart lenses could help with people suffering from a condition called presbyopia which is an inability to focus on near objects.
The deal is still subject to anti-trust approvals and Novartis has not indicated when it expects these contact lenses to come to market.
Health and fitness is a huge area of development for companies like Google, Apple and Samsung as they seek to provide users of their smartphones, tablets and wearable devices with a holistic view of their health at all times.