The Sony NSZ-GS7 Internet Player with Google TV will launch on 16 July, 2012 in the UK and is available to pre-order now, the company has announced.
"Retailers are free to set their own prices but we expect the GS7 to retail at around £199," a Sony spokesman told IB Times UK. The Sony NSZ-GS7 sells for $199 at Amazon in the US.
UK pricing for the Sony NSZ-GP9 Internet Blu-ray Disc player with Google TV is expected to be around £299 in the UK, with a launch date set for October 2012.
The platform has taken a long time to come to the UK, with Google chairman Eric Schmidt first announcing almost 12 months ago that the platform would roll out in Europe.
Sony used its press conference at the Consumer Electronics Show in January 2012 to confirm that two Google boxes would go on sale "soon". French website Les Echos had claimed Google TV set-top boxes featuring Google Play would go on sale in the UK and Europe in September 2012.
Sony said the July launch date of the NSZ-GS7 Internet Player made it the first manufacturer to sell Google TV products outside of the United States, with Canada, Australia, France, Germany, the Netherlands, Brazil and Mexico following the United Kingdom release.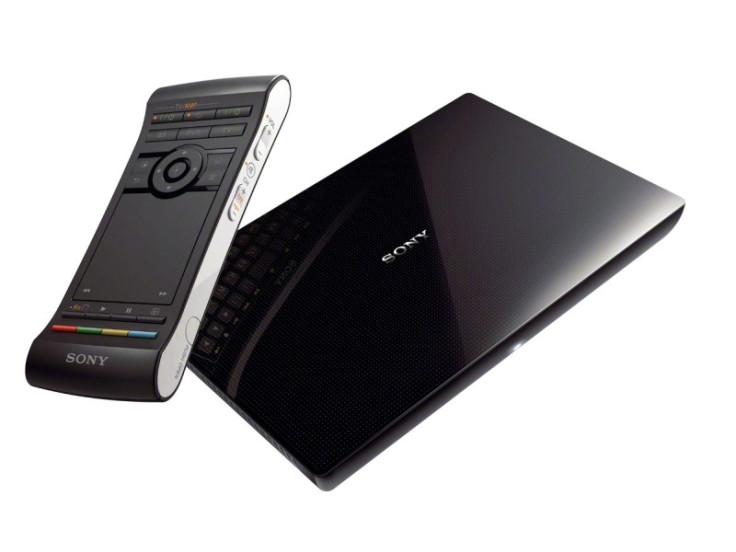 Gildas Pelliet, Sony's European head of marketing said the products offered users the freedom of the web on the big screen.
"Entertainment content is available through so many channels and sites, and Google TV helps consumers easily find what they want to watch, listen or play with the freedom of the internet and using the familiar Chrome browser," Pelliet said.
Google TV includes access to the Google Play app store and Sony said apps optimised for the TV were "being added all the time". Apple's rival online entertainment service Apple TV does not yet allow access to the iOS App Store.
The Sony NSZ-GS7 Internet Player with Google TV includes a dual-sided universal remote with a touch pad for cursor control on one side and a full keyboard on the other. It also includes a motion sensor for playing games.
Users can also use voice search or the free Media Remote app for their smartphone or tablet to control the entertainment system.