Key Features:
1080p support
98 x 98 x 23mm, 270g
Remote control included
Single core A5 chip
iTunes store access
HDMI, Ethernet, microUSB, optical audio ports
Price as reviewed: £99
Introduction
Whether or not Apple will admit it, we can say for certain that the company is working on a fully-fledged television set, known as the iTV. There is considerable excitement surrounding the project but there is still no definitive idea of when it will launch, meaning it could be anytime in the next 24 months.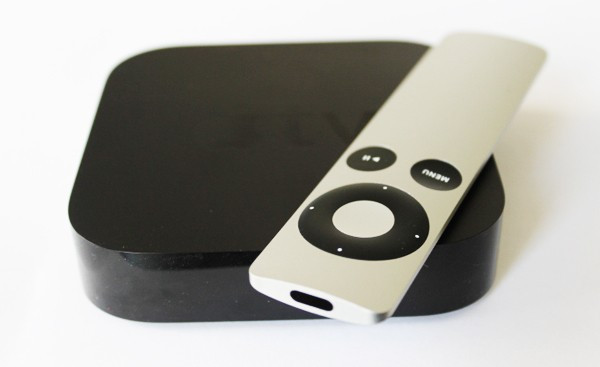 In the meantime, Apple is continuing with what it calls itself, "a hobby." The third generation of Apple TV launched alongside the new iPad last month and despite seeing this as only a hobby, interest in the set-top box is growing, with 1.4million units sold in the final quarter of 2012, which was half of the total for the year.
The headline feature of the third generation Apple TV is the addition of 1080p Full HD video support, but is this enough to persuade those who have so far decided against buying previous versions of the Apple TV to take the plunge? Let's find out.
Apple TV: Design and Build Quality
Love it or hate it, Apple knows beautiful design and having reduced the size of the Apple TV last time round it has left the smart-looking box alone this time. The little black box measures 98 x 98 x 23mm and weighs just 270g.
There is no way of telling you have a third generation Apple TV simply by looking at the device itself, indeed the only indication you get prior to turning it on is the 1080p logo on the box. Along with the Apple logo on the top of the box, the only break in the black matte plastic shell are the ports on the rear.
The Apple TV features a simple, no frills design and has flawless build quality. It will sit easily in almost every sitting room set-up and is small enough that you will barely notice it's there.
Also in the box is a slim aluminium remote control which is also as simple as it gets when it comes to remotes, featuring only a four-way circular pad and separate Menu and Play/Pause buttons. Again the design is sleek, and feels and looks premium, though you will have to be careful not to lose it down the back of the sofa, as it is only a few millimetres thick.
The only other thing in the box is the power cable, which comes neatly coiled like a sleeping snake. This means there is no HDMI cable supplied to connect to your TV. Apple recommends buying one of its own-brand HDMI cables, but considering these set you back £15, we wouldn't recommend it, as you can get an HDMI cable online for just a couple of pounds.
Apple TV: Hardware and Connectivity
The Apple TV update included the support of 1080p video and to help this along, Apple has included a new A5 chip, but unlike the A5 chips found in the iPhone 4S and iPad 2, this one is only single core.
Apple has upped the memory from 256MB to 512MB in the third generation Apple TV, and this helps keep the interface and navigation feel nice and responsive. The Apple TV keeps it 8GB of internal storage but this is still not available for you to download anything to, but is instead used as a cache for buffering.
On the rear you will find the same ports as found on the previous Apple TV. There is an HDMI port, Gigabit Ethernet port, an optical S/PDIF audio port, power socket and a microUSB port. However you shouldn't get excited that you can plug something (like a hard drive) into the microUSB port and play your movies, as it is only used for updating the software and firmware on the Apple TV.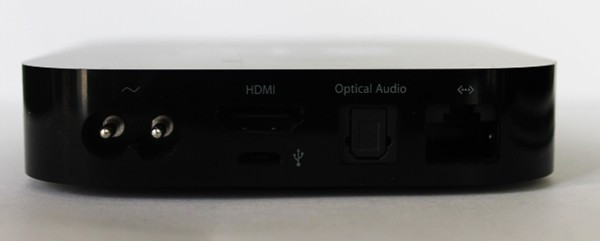 As well as the option of hard-wiring your Apple TV to your broadband connection, there is in-built Wi-Fi N to connect to a wireless network. Be warned though, if you need to connect to a wireless network which requires a browser authentication, this is not possible as the Apple TV has no browser.
While we would have liked a USB port on the front to play our music and movies or even an SD card to easily view photos, this was never going to happen as we are dealing with Apple here and that kind of freedom is not going to happen any time soon.
Apple TV: Interface and Performance
As well as adding 1080p support, Apple rolled out a new iOS-like interface with the new Apple TV. This is a more icon-based interface which is reminiscent of iOS and is pretty intuitive to navigate around.
Setting up your Apple TV requires you to input your Apple ID or create a new one if necessary. If this is the case however, we would suggest doing this first on your PC or laptop first, as inputting text using the remote control is not a good experience considering the limited number of buttons available.
Once set-up you will be presented with a grid of icons, above which is displayed a carousel of the content you are highlighting, such as movies, music etc. The first row if icons relate to Films, TV Programmes, Music, Computers and Settings.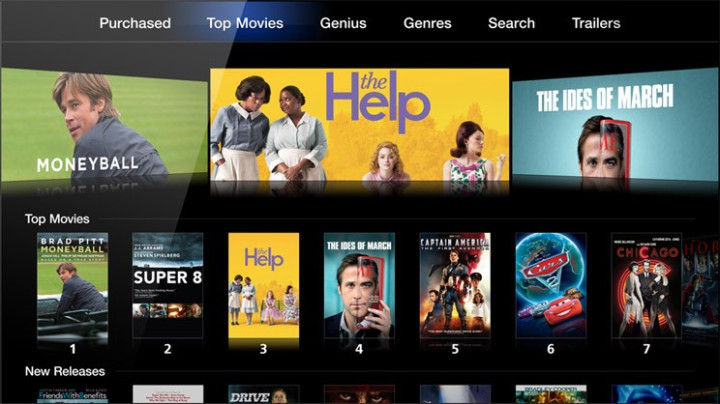 Below these are a dozen or so icons for apps from the likes of Netflix, YouTube, the Wall Street Journal and Major League Baseball. The list is far from exhaustive and the continued lack of access to the App Store - even a limited selection of the Store - is a major drawback.
Navigating the system is relatively straight forward using the four-way circular pad on the remote, and the central button to select. Pressing the Menu button is like pressing Back in most situations.
One point to be wary of however, is that if you are using the remote with an active MacBook in the room, then you will also begin controlling this, which can be rather annoying. This can however be solved by simply turning off the remote function of your MacBook.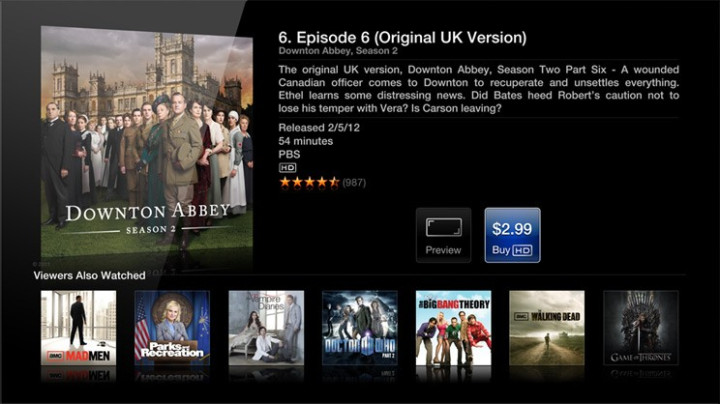 As well as the physical remote, Apple TV can be controlled using the Remote app for your iPhone/iPad/iPod touch. The interface is simple, letting you swipe up/down/left/right to navigate and tap to select. The main benefit however is being able to use the on-screen menu for typing.
Apple TV: Performance
First off, a word on the quality of the video streamed through Apple TV. The quality of what you see on your TV depends hugely on the speed of your broadband connection and while downloads from the iTunes store worked well (thanks to the caching feature) - even when watching in Full HD - we did encounter a lot of problems with the Netflix app. This was particularly evident at peak evening hours when ISPs traditionally 'manage' there networks by slowing down your speed.
In general, the Apple TV doesn't really do that much. It lets you rent or buy films, buy TV shows and buy music from the iTunes catalogue; stream movies and TV shows from Netflix (with a subscription); browse YouTube, and if you're into American sports you can watch live Major League Baseball too - again with a subscription.
TV shows cannot be rented but can be purchased from as little as £1.49 for Standard Definition (SD) episodes (£2.49 for HD) while entire seasons can be had for as little as £4.49 (SD) and £9.99 (HD). This is not particularly good value however, as these lower prices are for older and less popular shows. Looking at the more popular shows, such as House, its entire Season One will set you back £26.99, while buying the DVD from Amazon will cost less than £10.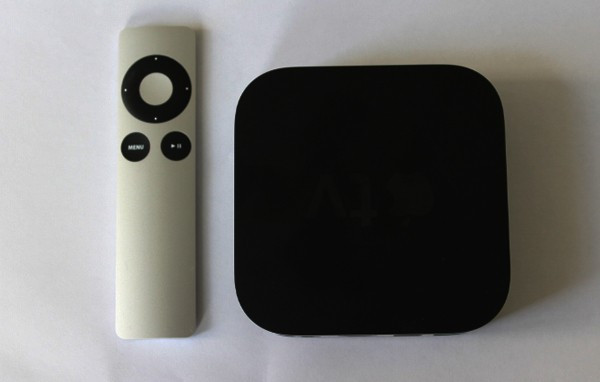 Film rentals begin at £3.49 and you can buy movies, such as The Adventures of Tintin for £9.99, which is good value. The catalogue of films, and to a lesser extent TV shows, is poor however. Go looking for a particular film slightly off the beaten track and you'll probably be disappointed.
Where it does work however is for catching up on TV episodes you might have missed and are not available anywhere on catch-up services. Also, having immediate access to this library of content could save you on a rainy Sunday afternoon with only Bolton vs Stoke on the TV.
And that's just about it in terms of what an Apple TV can do. Except that is, if you own some other Apple devices or PCs running iTunes. Where the Apple TV comes into its own is in its ability to stream content from iPhone, iPads, iPod touchs and PCs running iTunes 10.6 or later.
Using Apple's proprietary streaming technology, called AirPlay, you can very easily display photos, play movies or listen to music through your TV. Of course you will need a device which uses AirPlay which means all iPhones from the iPhone 3GS and up, all iPads and third generation iPod touchs and higher.
Simply tapping the AirPlay symbol while looking at photos or watching a movie will instantly send your content to your TV. This is a very intuitive system once it's up and running. It's an easy way to share photos with friends and family, or to put home movies of your kids on the big screen.
As well as supporting AirPlay, Apple TV supports Home Sharing, which allows you to connect it to any PC on the same network which is switched on and running iTunes 10.6 or higher. This means from the comfort of your couch you can browse you music collection, pick a movie stored on your PC or look through your catalogue of photos.
Apple TV: Verdict
It seems like a hard sell to convince consumers to stump up £99 for what is effectively giving you access to iTunes on your telly. While it does it well, and the Apple TV design is stylish and unobtrusive, if this is all it did then we couldn't recommend it.
However, if you are an Apple fan and own iPhone/iPad/iPod touch or a MacBook or iMac, then buying an Apple TV makes a lot more sense. Being able to share photos and video through AirPlay or browse your entire music and film library directly on your TV is brilliant and works flawlessly.
While £99 for a box which connects your phone, tablet and computer wirelessly to your TV might seem like a lot, if you have already bought into the Apple ecosystem, then it offers good value by extending your other devices' usability.
Scores:
Design: 9/10
Value: 8/10
Features: 7/10
Performance: 8/10
Overall: 8/10
The Good
Small, compact and stylish design
AirPlay and Home Sharing
The Bad
Limited number of apps
Limited video catagloue