Action camera company GoPro has announced a drone to rival those from market leader DJI. The Karma is a four-rotor drone which folds up into a backpack and is compatible with most recent GoPro cameras.
The Karma features a GoPro Hero camera mount and a removeable three-axis stabiliser and gimbal, which attaches to a "grip" that acts like an advanced selfie stick. This can be held separately or attached to a range of GoPro accessories; the company showed how it can be used to record high-speed downhill mountain biking with cinema-style smoothness.
The drone is controlled by a conventional two-stick controller with a fold-out screen. Each of the four propellers folds away so the drone can fit neatly into its included bag.
A "passenger" app lets a second person watch a live feed from the Karma's camera on their smartphone or tablet, then set up and take photos and video while the pilot focuses on flying.
The £720 Karma drone enters the market to compete with DJI, whose Phantom drone range is among the best currently on sale at the consumer and amateur video maker end of the market. The Karma is compatible with all Hero 3, 4 and 5 cameras, and can also be bought with an included Hero 5 Black for £1,000. The Karma goes on sale in the UK on 23 October.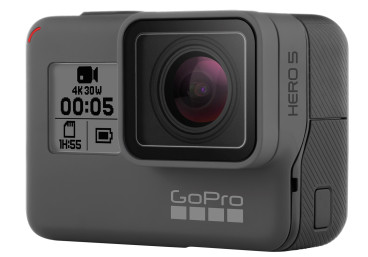 Announced at the same media event, the Hero 5 Black is GoPro's latest flagship camera; it is waterproof to 10 metres, has an integrated touchscreen with a new user interface, and can be controlled with voice commands.
The equally new Hero 5 Session has no screen, but is more compact than the Black and features the same waterproofing and voice controls. Both can shoot 4K Ultra HD video at 30 frames per second The Black and Session cost £350 and £250 respectively; they go on sale in the UK on 2 October.
GoPro claims the Karma offers "Hollywood style stabilisation" to keep footage smooth. The design of the drone means the rotors are positioned away from the camera to stop them getting into shot - when flown quickly some drone's rotors block the lens briefly.