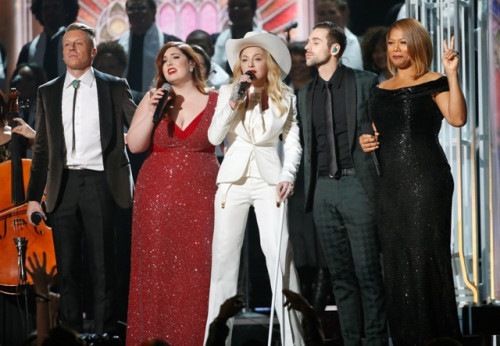 Grammys producer Ken Ehrlich who spoke to The Hollywood Reporter earlier in the week promised a night of surprises and he definitely meant it. As a first, the 2014 Grammy Awards that aired on Sunday (Jan. 26) had 33 gay and straight weddings.
As reported in THR, the weddings were officiated by Queen Latifah (after being deputized by Los Angeles County) while Macklemore & Ryan Lewis performed Same Love. The rap duo was later also joined by Madonna, Mary Lambert and jazz artist Trombone Shorty.
"This song is not a love song for some of us but for all of us," said Latifah as she introduced the event's special segment. Originally 34 couples were meant to get hitched, but Latifah stated 33.
Madonna sang her classic, Open Your Heart as the couples exchanged rings and became newlyweds.
"I was told not to say anything," were Madonna's words when asked about the novel event, before the show. "I mean I wouldn't do any old song with any old artist, but history is going to be made tonight," she said.
GLAAD also tweeted its support of the equal rights awareness performance earlier in the evening, saying: "Congrats to #LGBT allies @macklemore and@RyanLewis! #GRAMMYs."
Lewis' sister Laura was among the new brides who reportedly said "I do," to boyfriend Alex on live TV.
GLAAD President Sarah Kate Ellis talked about the progressive aspect of the segment and said, "When such a critically acclaimed and popular rap artist puts marriage equality center stage at one of the biggest events of the year, it is the latest in a long line of signs that our nation not only accepts, but celebrates the love and commitment of gay couples today."
Macklemore & Ryan Lewis were nominated for seven honors at the 2014 Grammy awards, including album of the year for The Heist. They won for best new artist, and took home the trophies for best rap album, best rap performance and best rap song for Thrift Shop.