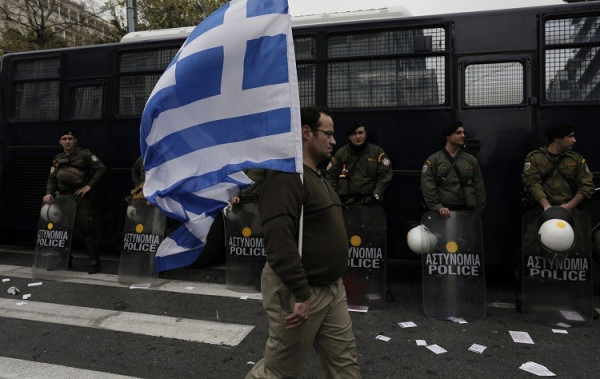 Greece is tipped to erupt in strikes against austerity measures as its international creditors visited the country to conduct a review of its progress in meeting austerity-driven reforms.
The country's incumbent unions led a 24-hour walk-out by public and private sector workers that brought the nation to a standstill with the general mood being that Greece cannot take any more.
The Troika consisting of the International Monetary Fund, European Commission and European Central Bank is visiting the country to review its bailout after talks between the troika and Greek Government stalled in September.
The troika fears that if Greek's fragile coalition government led by Prime Minister Antonis Samaras does not impose new budget cuts on wages and pensions or increase taxes, then Greece will miss a targeted budgetary surplus of €2.75bn (£2.3bn, $3.71bn) in 2014.
Samaras has rejected this and claimed that Greece deserves a degree of leeway after it implemented the biggest deficit reduction recorded in the eurozone,
The country also has an unemployment rate that stands at 28% with joblessness among young adults at an eye-watering 60%.
Since the country's headed into recession, it has suffered six consecutive years of slumps and has only been saved from defaulting through a bumper bailout of €240bn ($325bn, £201bn).
Creditors expect Greece to miss its targeted budget surplus for 2014 by €2bn.
The Greek Government has said the sum would likely be much smaller at around €500m, which can be met with structural reforms.
Greece's Finance Minister Yannis Stournaras presented a draft budget in October 2013, where he predicted Greece would beat the surplus target by about €90m, helped by a rebound in the economy and improved tax collection.
Similarly, in September 2013, Greece's deputy prime minister Evangelos Venizelos boldly declared that the beleaguered country did not need a third bailout, despite record unemployment levels and continued recession.
In a press conference, Venizelos said that Greece does not intend to ask for more money and that it could escape a fresh bailout by returning to the bondmarkets in 2014 and extending the maturity of its debt.
"Our point is not to transform the adjustment programme as a more loose programme, but to implement through a clever manner the existing programme," he said.
But the Troika remains unconvinced on this point. And Germany's Angela Merkel has not provided any evidence so far that her austerity approach to Greece or any other vulnerable eurozone nation will soften.