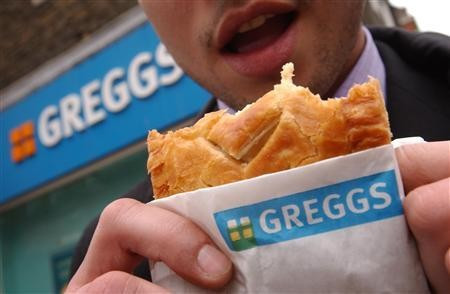 Greggs the Bakers' shares plunged after it said like-for-like sales of its pastries and cakes dropped, in the first six months of the year, weighing on the high street chain's profit.
Like-for-like sales in Greggs shops were down 2.9% in the 26 weeks to 29 June. This sent pre-tax profit down to £11.4m, a £4.6m fall compared to the same period year-on-year.
It follows a profit warning issued by Greggs at the end of April, when it said earnings would be lower than expected during the first half, because of falling consumer incomes and lower footfall.
Greggs shares tumbled by over 7% to 410.00p at 9:06am BST on the London Stock Exchange.
The fast food retailer said it will focus on improving its 'food on the go' offering for customers through store developments, as well as investment in processes and systems and growing its franchise operations.
"Greggs is a strong brand that has the ability to grow shareholder value over the long term," said Roger Whiteside, Greggs' chief executive.
"Our focus for the future will be on winning in the growing food on the go market.
"As a consequence we will spend the next two to three years reshaping the business as we build the platform for long term sustainable profit growth for the benefit of shareholders, employees and the wider community."
Total sales lifted 3.4% during the six month period, to £362m, driven by growth in wholesale volumes.
Greggs opened 37 new shops during the first half, but closed 18. It now has a total of 1,690 shops across the UK.
Whiteside, who recently took over as boss from the anti-pasty tax crusader Ken McMeikan, said Greggs has already started to improve its food on the go services.
"Greggs is a brand with broad appeal, attracting customers of all types and we have the opportunity to fulfil more of their needs by focusing on food on the go at all times of the day," he said.
"We are already beginning to make changes to our product offering to reflect our new focus, with encouraging early results.
"Our sweet range has been simplified and redeveloped to offer more contemporary products better suited to snacking or a treat to go with lunch. We have introduced a new pizza product that has quickly become one of our best-selling lines - popular at lunchtime but also perfect for afternoon and evening snacking.
"We have improved the filling recipes in our best-selling Steak Bakes and Sausage and Bean Melts. We also have further product developments and upgrades in the pipeline with many opportunities to continue to improve our product offer and develop our position in the food on the go market."