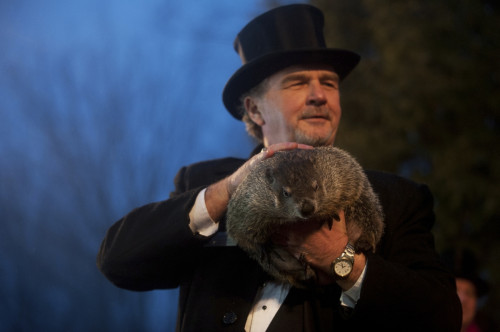 It's that time again.
On 2 February every year since 1887, a groundhog named Phil is roused from his winter hibernation and emerges – or rather is carefully extracted – from his burrow at "Gobbler's Knob" in Punxsutawney, Pennsylvania, to predict the weather for the year ahead.
Today, the rodent poked out his muzzle to find thousands of fans waiting to cheer his every move as he was held up to the sky by his staff. If it is sunny and Phil sees his own shadow, six more weeks of winter weather will follow. If it's cloudy and he can't, an early spring is forecast. Phil makes his prediction in Groundhogese to the Groundhog Club President, who then kindly translates it to the world.
Since first predicting the weather, Phil has seen his own shadow 100 times and not seen it 17 times. On nine occasions his prediction was not recorded. Phil's friends insist he has a 100% success rate for predicting the weather but some meteorologists are less convinced, and last year a prosecuting attorney in Butler County, Ohio demanded the death penalty for Phil for "misrepresentation of early spring". Fortunately for Phil a Pennsylvania law firm came to his defence claiming Ohio had no jurisdiction in the state.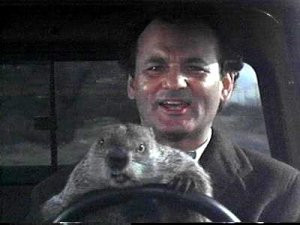 This year Phil – who ascribes his remarkably long life to regularly imbibing "groundhog punch", was able to confirm there will be six more weeks of what has been a long, hard winter. Disappointingly he was unwilling to predict the winner of tonight's Super Bowl between Seattle Seahawks and Denver Broncos.
The expression Groundhog Day entered common parlance following the release of the film of the same name starring Bill Murray in 1993. Murray played a misanthropic weatherman who travels to Punxsutawney to cover the annual event and finds himself reliving the same day again and again until he endeavours to improve himself.