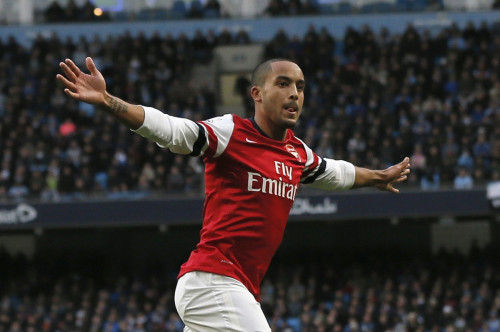 Former Arsenal winger Perry Groves believes that Arsene Wenger will be forced to splash the cash in the winter transfer window after losing Theo Walcott to injury last weekend.
The Frenchman deployed Walcott as a striker against Tottenham Hotspur as the Gunners ran out 2-0 winners at the Emirates in the third round FA Cup clash last Sunday. However, the winger ruptured the anterior cruciate ligament in his left knee and was stretchered out of the previous game ruling the England international out of the current campaign.
The north London club are without strikers Olivier Giroud and Nicklas Bendtner who incurred injuries during the festive period. The Danish international has warmed the bench while the Frenchman tops the goal scoring charts for the Gunners in the Premier League with eight goals this season.
"Now it will make Arsene Wenger have to go buy another forward that everyone thought he had to go and get. It's bad news but I think it's more bad news for Theo personally than it is for Arsenal," Groves told talkSPORT.
"Obviously he's going to miss the World Cup, which is a tragedy for him, but I don't think it's that drastic for Arsenal. I know he gives something different when he plays wide of a three and gives them pace going forward but you've got to remember Arsenal were top of the league before Theo got back into the side," the 48-year-old added.
Groves had earlier urged Wenger to sign Dimitar Berbatov from Fulham in January to aid their title push this season. It is no secret that the Frenchman is in the market for a striker following his attempts to sign Luis Suarez from Liverpool last summer.
Wenger will be hoping for Giroud's swift return from injury but currently has only one option in attack which could see him utilize Lukas Podolski as a striker for the upcoming league fixture against Aston Villa.
Since winning the FA Cup in May 2005, Arsenal have gone empty handed for eight seasons and stand a chance to end the drought in the current campaign. The Gunners currently sit on top of the table with 45 points after 20 matches in the league.
Wenger will be aware that he needs to bolster his attacking options if the the north London club have to stand a chance to win a trophy by the end of the current campaign.