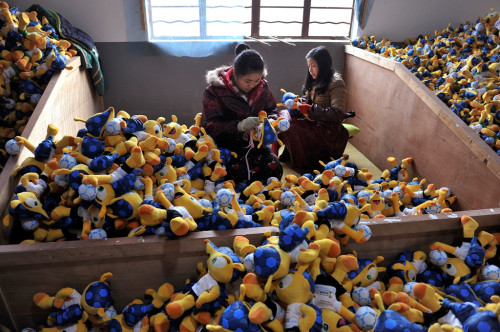 Business activity across emerging market economies expanded at a weaker rate in December, hit in particular by a slowdown in service sector growth, according to a private survey.
The composite HSBC emerging markets manufacturing and services Purchasing Managers' Index (PMI) dropped to 51.6 in December from 52.1 in the preceding month.
Any reading above the 50 threshold denotes expansion.
The Indian services output index remained below the 50 threshold for six consecutive months, the survey showed. China's December service sector reading of 50.9 was its lowest in 28 months.
HSBC's future output index fell to a six-month low in December, reflecting weaker demand in both manufacturing and services.
Among the BRIC markets - Brazil, Russia, India and China - Brazil continued to log the strongest optimism about output growth in 2014. However, the levels of optimism have dropped in the past two months.
Russian firms remained less optimistic, on average, than their rivals in China and India.
The HSBC survey pointed to upbeat factory output levels in Taiwan, Saudi Arabia and the United Arab Emirates.
High-deficit countries such as Brazil, India and Indonesia had been hit by the US Federal Reserve's move to unwind its monetary stimulus.
Goldman Sachs recommended that investors trim allocations in developing nations by a third, forecasting "significant underperformance" for bonds, currencies and stocks over the next decade, reported Bloomberg.
JPMorgan said it expected emerging markets' local-currency bonds to post 10% of their average returns since 2004 this year.
Meanwhile, Morgan Stanley forecast the Brazilian real, Russian ruble and Turkish lira would depreciate further after losing about 17% in 2013.
BRIC economies have delivered huge returns in the past and Morgan Stanley said some of those nations could end up being the laggards as the Fed reduces its asset buys and interest rates rise.
Stephen King, chief global economist, HSBC said: "Emerging economies are no longer expanding at the rapid rates recorded before the onset of the global financial crisis. Nor have they been able to replicate the pace seen in late-2009 and early-2010 during the early post-crisis bounce."
"Still, despite the relative weakness, there is no indication of any imminent descent into recession: consistently over 50, the index remains well above the traumatic levels recorded in 2008 and the first half of 2009," King added.
Capital economics said in a 19 December note to clients: "For all the recent talk of a 'Great Deceleration', we think that the bulk of the slowdown in [emerging markets] growth has already happened. Growth in aggregate [in 2014] looks set to be broadly unchanged from 2013."
"However, this masks important differences between individual countries and regions, and there are a number of economies where the consensus still looks too optimistic. The BRICs are likely to remain weak by recent standards, but growth in a number of smaller EMs should pick up."