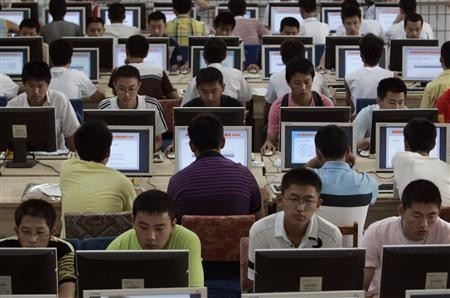 Growth in China's services sector fell in December, logging its weakest expansion in 28 months, according to a private survey.
The HSBC/Markit services sector Purchasing Managers' Index (PMI) dropped to 50.9 in December 2013 from 52.5 in the preceding month - showing world's second-largest economy lost speed at the end of 2013.
New business expansion dropped to its lowest level in six months owing to subdued customer demand.
The news weighed down on Asian stocks.
Downbeat services sector data and a stronger Japanese yen forced investors to take profits on 6 January, pulling down a bulk of all Asian stocks.
The latest HSBC data followed a report by China's National Bureau of Statistics on 3 January that showed service-sector activity growth fell to a four-month low of 54.6.
Both surveys followed two other surveys last week that showed China's manufacturing activity slowed in December, suggesting that the slowdown was broad-based.
"We expect the steady expansion of manufacturing sectors to lend support to service sector growth," said Qu Hongbin, HSBC's China chief economist.
"Moreover, the implementation of reforms such as lowering the entry barriers for private business in service sectors and expanded VAT reforms should help to revitalise service sectors in the year ahead," Qu added.
China Bears
"A financial drama is unfolding in China as the new year begins," Patrick Chovanec, managing director of Silvercrest Asset Management, said in a column for Bloomberg News on 3 January.
"Western investors largely ignored the cash crunch [in Dec. 2013] and failed to grasp its potential significance," Chovanec wrote. "These repeated crises are a sign that the foundations of China's investment-driven growth model are crumbling—with unsettling implications for the rest of the global economy."
Earlier, famed investor George Soros said "the major uncertainty facing the world today is not the euro but the future direction of China."
"[T]here is an unresolved self-contradiction in China's current policies: restarting the furnaces also reignites exponential debt growth, which cannot be sustained for much longer than a couple of years," Soros wrote in a column for Project Syndicate on 2 January.
"How and when this contradiction will be resolved will have profound consequences for China and the world," Soros added.
China's economic growth is expected to hover at 7.6% in 2013, according to a December 2013 cabinet report, a notch above the government's target of 7.5% and slightly below last year's 7.7% growth rate.