GTA Online Server Problems Predicted by Rockstar Games
Grand Theft Auto 5 developer Rockstar Games has warned gamers that performance of the new GTA Online service may suffer, as millions of players could overwhelm its servers.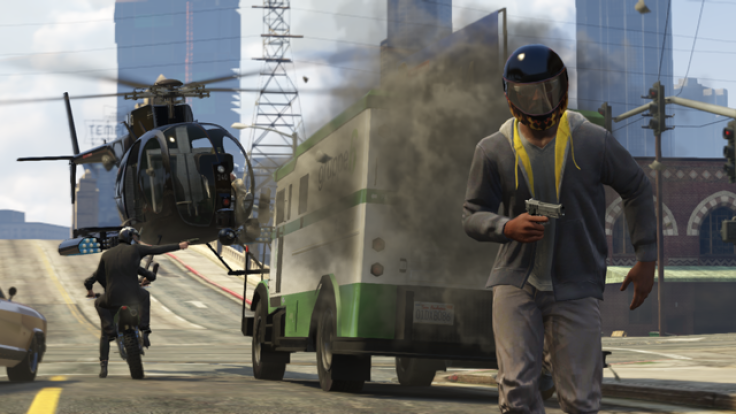 To be launched on Tusday at 12pm UK time , GTA Online offers players a richly detailed online world inside the city of Los Santos, where gamers can interact with each other, form gangs and pull off heists.
Writing on its blog, Rockstar Games said it is buying and installing new servers "around the clock" to compensate for "unanticipated" pressure, as millions of GTA 5 fans get ready to log into the online world.
Update: GTA Online Launch Affected by Multiple Problems
The strain on its servers is "going to make the first few days even more temperamental than such things usually are," Rockstar admitted. "This is part of the problem some of you have been experiencing with the iFruit App and and some Social Club services - we apologise in advance for this and thank you for your patience in this area."
All buyers of the 18-rated game will be able to play GTA Online for free, providing they connect their console to the internet - and, in the case of the Xbox 360, have purchased an Xbox Live Gold subscription.
Trending
A system update will be made available for gamers to download on 1 October, and with three hours to go at the time of publication, #GTAOnline is trending on Twitter as gamers patiently wait for the update to become available.
Having earned revenue of £500 million during its first 24 hours on sale last month, GTA 5 has proven hugely popular among gamers, and analysts now believe the title has sold more than 15 million copies worldwide.
Cowen & Company analyst Doug Creutz said in a research note to investors: "Based on the $1 billion three-day figure Take-Two disclosed, we believe the game has already sold 15 million units.
"For a game to sell 60% of its first year units in just three days would be abnormally high; we estimate that Call of Duty sells about 45-50% of its first year units in its first week at retail."
Front-loaded
Creutz says he expects GTA 5 sales to be "extremely front-loaded" due to high anticipation from gamers who have waited years for it to be released, and will also "have a shorter sales tail given the launch of next-gen consoles in November."
The analyst expects GTA 5 to sell 25 million copies worldwide in its first year on sale.
Keza MacDonald, UK editor of videogame website IGN, told the BBC: "At a conservative estimate I would expect about two million players to log on to GTA Online within the first 24 hours. Rockstar has never done an online game of this scale before, so they are totally unproven in terms of their network infrastructure."
MacDonald added that, even during its peak, popular online game World of Warcraft didn't have as many players as GTA Online is expected to attract. "It wouldn't surprise me if there are problems," she added.
Players can roam Los Santos together and, being an open world, do almost whatever they like, from playing golf and tennis together, to watching films, racing cars and conducting armed robbery - stealing armoured trucks for easy money is suggested by Rockstar, along with taking down rival gangs.
Growing pains
Such is the scale of GTA Online, Rockstar warns that the city may suffer from instability at first. "There will be the typical growing pains for an online game, including but not limited to crashed, glitches, crazy bugs, gameplay modes and mechanics that need re-balancing and other surprises.
"This sort of this is inevitable in a massive open-world game and there'll surely be lots more unexpected oddities...rest assured we'll be monitoring and actively doing all we can to smooth such things out as they happen."
Must Read:
© Copyright IBTimes 2023. All rights reserved.