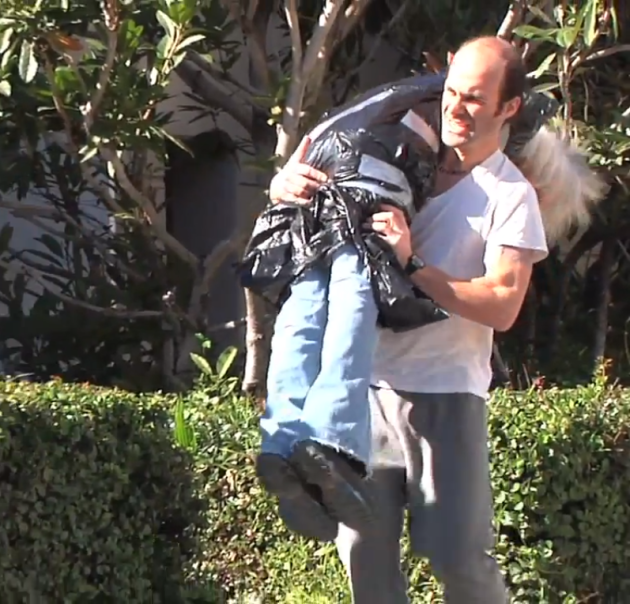 Trevor Philips is easily one of GTA V's most entertaining characters. His ruthless attire, deranged behavior and quirky background have played a rather vital role in making GTA V the amazing game that it is. If they ever do come out with a GTA V movie, then its focus will most probably be centred around the reckless Canadian.
Comedian Nathan Barnatt has now filmed a series of pranks in which he pretends to be Trevor from GTA V. Barnatt goes around town holding a dead body of a guy who isn't actually dead. Instead, the namesake corpse is a person who is alive and kicking, and in some cases, reacting to some of Trevor's hilarious behavior.
The video is centred on Trevor's numerous ruthless attempts to get rid of the body, apart from the reactions from the people around him. Watch the entire video below.
Rockstar Announces New Content for GTA V
Rockstar has announced several new content updates, starting with the launch of the free Deathmatch and Race Creators tool coming this week. Users will get access to tools used by the developers themselves, which will allow them to build their own content in GTA Online.
They "can craft your(their) own custom blood-soaked gunfights, high-octane street races, screaming jet dogfights and more", said Rockstar. "(They'll) also be able to publish original Deathmatches and Races via the Rockstar Games Social Club for the whole community to discover, download, play, rate and share."
Players can create and customise Jobs for deathmatch, team deathmatch, Race, GTA Race and Rally Race modes. The company will brand the best content as "Rockstar verified jobs" and will allow it to be played by the entire online community.
Back in December, Rockstar introduced capture, which is GTA's take on the popular "Capture The Flag" mode. The company will now be coming out with an update that "will bring a host of new jobs to GTA Online, accessible via the open world and also directly through your phone. Capture is broken down into four variations - 'Raid', 'Contend', 'Hold' and 'GTA'".
Two more Rockstar offerings in 2014

1) GTA Online Heists, which will allow you to play co-operative heists with your friends online.
2) GTAV Story Mode Updates, which will feature new content that will allow players to continue with the extended adventures of Michael, Franklin and Trevor.
Rockstar's plan is a rather simple one. After having created a massive fan base with GTA V, it plans to milk that success even more with new content and features in the coming days.