Gui Minhai: Family of dissident Hong Kong bookseller dismiss video 'confession'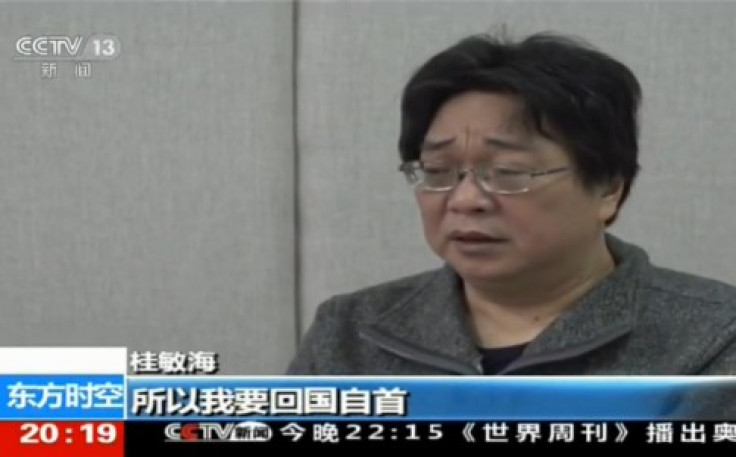 Friends and family of missing Hong Kong bookseller Gui Minhai have dismissed a recently released video confession by him 'scripted' and said they still believe he was abducted by mainland Chinese authorities. Gui is one of five publishers for the same company that have gone missing in recent months.
The disappearances led to street protests in Hong Kong demanding answers as to the publishers' whereabouts. Gui Minhai, Lui Bo, Cheung Ji-ping, Lee bo and Lam Wing-kei were all working for Mighty Current and Causeway Bay Books – known for publishing dissident literature about high ranking Chinese communist party members – when they went missing.
Gui appeared on Chinese state TV on Sunday (17 January) to confess to a hit-and-run incident in 2004 which left a 20-year-old student dead. The legitimacy of the video has already been questioned, with some mentioning that Gui's hairstyle and undershirt changes between cuts, suggesting that the video has been put together from separate takes.
Now friends and family have started to speak out to news agencies about whether Gui was forced to make the statement in the video.
Speaking to the South China Morning Post, based in Hong Kong, dissident poet Bei Ling said that it appeared Gui was speaking from a "scripted speech"; he also said "what has happened to him is abduction conducted by a country." Bei did say that he had heard from Gui's friends that the hit-and-run incident did occur.
Gui's daughter, Angela Gui, told The Guardian that she did not know whether the incident had happened but that she believed that he had been abducted from his apartment in Thailand in October, rather than entering voluntarily.
Gui also holds Swedish citizenship. The Swedish government summoned the Chinese ambassador over the case but the embassy in Beijing have said they will not comment on the case and are current seeking clarification from the Chinese authorities.
© Copyright IBTimes 2023. All rights reserved.