A Swiss laboratory has created the smallest magazine cover in the world, which measures 11 x 14 micrometres and is invisible to the naked eye.
The image, which is roughly the size of a red blood cell, is of two pandas and was featured on the cover of last month's issue of National Geographic Kids magazine.
Unveiled at the US National Science and Engineering Festival in Washington DC, Guinness World Records has confirmed that the image is indeed the smallest magazine cover in the world.
Created by IBM, it was carved out of a lump of plastic using a sillicon needle 100,000 times sharper than a sharp pencil tip, using technology similar to 3D printing. The cover is so tiny that 2,000 of them could fit on a single grain of salt.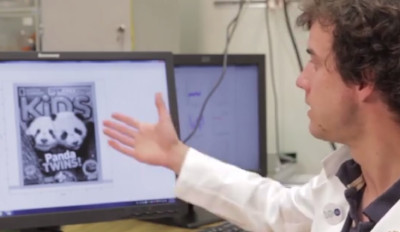 Urs Duerig, an IBM scientist and one of the inventors of the machine, told Reuters: "My idea was to do something similar to chiseling a rock, but just do it on a nano-scale."
National Geographic Kids commissioned the project, inviting their readers to take part in a survey to select an image to be shrunk.
The technology was developed over five years in IBM's research laboratory in Switzerland.
The machine consists of a tiny chisel, which is attached to a silicon strip which scans the surface of the material to be printed. The chisel is heated to carve away material which is just five nanometres across.
IBM licensed the technology to a Zurich-based company called SwissLitho, founded in 2012 by two former IBM scientists, Felix Holzner and Philip Paul. The company developed the prototype into a commercial machine called the NanoFrazor. Each machine costs around 500,000 euros and are intended for use in scientific research.
Holzner told Reuters that the application range of the machine was broad: "It's like a 3D printer on a microscopic scale - you can make any structure you want but a million times smaller with this machine."
Dr Colin Rawlings, a physicist at IBM Research, told Mashable that the cover is a fun example of the printer's capabilities, yet it is perfect for rapid prototyping.
He said: "Scientists make a lot of mistakes so being able to prototype things quickly and accurately is really important and that's what this lets you do."
According to IBM, the technology could be used to make transistors, semiconductor devices used to amplify and switch electronic signals and electrical power. The machine may also be used to create miniscule security tags, which could be used to prevent the forgery of artwork, passports and money. According to the Guardian, the some companies have used "nanopatterning" methods to inscribe the entire bible onto a crucifix for religious customers.