A brawl between one-time teen star Sean Kingston and Bad And Bougie rappers Migos allegedly broke out at an event in Las Vegas. Reports claim a gunshot was fired in an attempt to break up the melee, which was reportedly caused by an argument involving Soulja Boy.
Kingston, 27, and Migos, which consists of members Quavo, Offset and Takeoff, attended an event at the Sands Expo and Convention Center on 21 February. According to TMZ, the musicians got into an altercation late in the afternoon, allegedly prompting a member of Kingston's entourage to fire a single shot.
Nobody was hurt by the gunfire and Migos and Kingston reportedly left the scene before police arrived. The rap collective are alleged to have kicked and stomped Kingston in the brawl. However, when Kingston was later pulled over by police officers at a traffic stop, the Beautiful Girls singer was said to have been "co-operative", but refused to divulge names of others involved in the fight.
Although the police are keen to question Migos about the incident, the rap group are not necessarily wanted for arrest by the authorities. The New York Daily News reports that the person who fired the gunshot was detained at the scene and handed over to the Las Vegas Police Department, along with another person.
The beef between Soulja Boy and Migos originated over a diss track. Fellow rapper Young Thug filmed a video in November 2016 warning Kingston not to get involved in the argument between his friend Soulja Boy and the Georgia rap group. In an Instagram clip, Young Thug said: "That s**t with Soulja Boy and Quavo, Migos, let that s**t be with them. Sean Kingston, relax because we ain't going to be doing too much playing so relax. Stay out of them. I ain't going to tell you [more than] one time."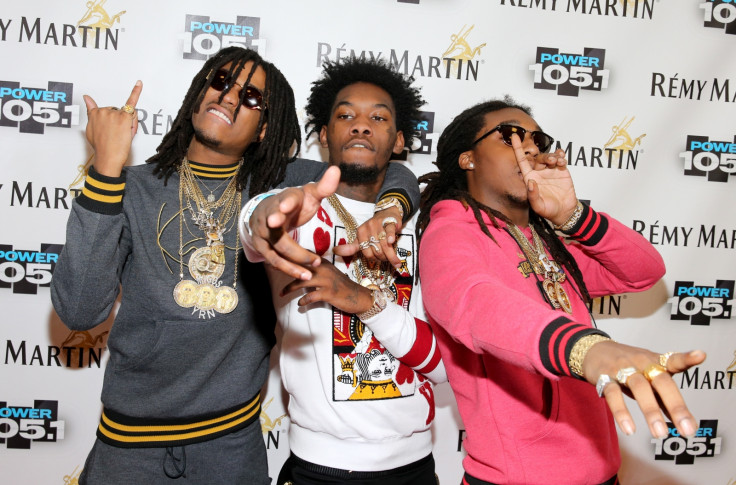 Migos rose to prominence in 2016 with their hit single Bad And Bougie, which features Lil Uzi Vert and production from Metro Boomin'. The track topped the US Billboard Hot 100 chart while their album Culture, released in January 2017, also reached number one.
IBTimes UK have contacted Kingston and Migos' reps for comment.
Watch Migos and Sean Kingston together at the Las Vegas event hours before the brawl broke out: