The Halloween costume market may seem to be dominated by celebrities and university students but dressing up is never more fun than when you are a child. Whether you are a new parent looking for a hilarious costume for your baby or struggling to find a costume they can wear to school, there are endless options when it comes to dressing up children this Halloween. Long gone are the days of sticking on a old sheet with some holes cut out or a baggy teenage mutant hero turtles hand me down, you can dress children in literally anything these days from lobsters to priests and unlike your own costume you can pretty much guarantee they will want to wear it again.
To save you the horror of a disappointed child we have rounded up the cutest and coolest Halloween costumes this year.
Child Yoda costume (toddler - small); £15.99, Halloween Costumes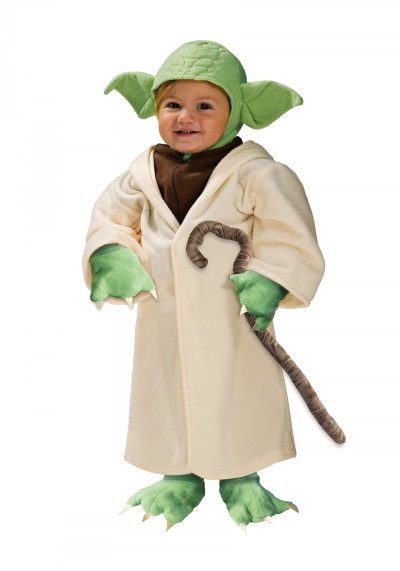 Star Wars fans rejoice as you can dress your child up as a true to scale Yoda for Halloween. Cosy enough for any trick or treating and ideal to whip out again when Force Awakens is released on December 18th.
Travis Designs Pirate Captain Dressing-Up Costume (1-2yrs - 6-8 yrs); £25.00, John Lewis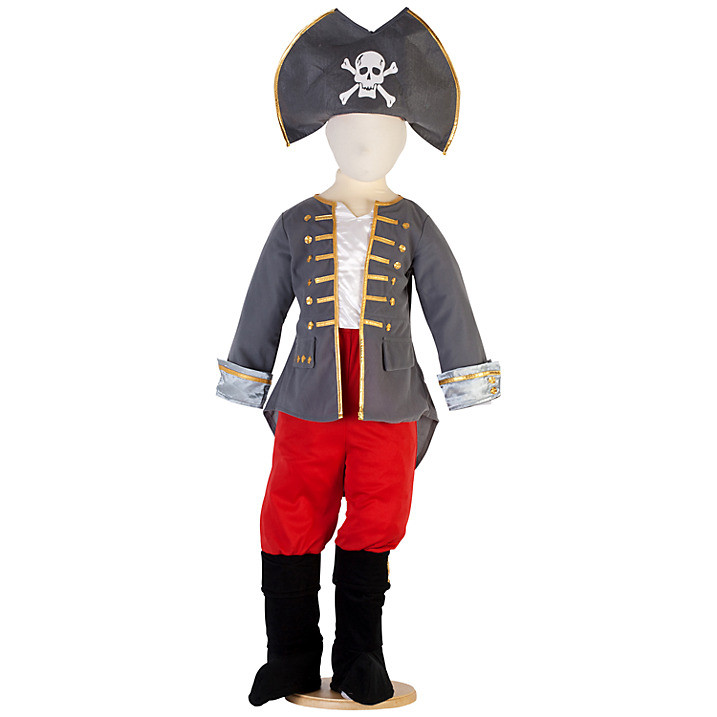 This regal pirate costume is perfect for any boys and girls wishing to channel their inner Captain Hook or Jack Sparrow. A dressing up box classic that will definitely have them as the star of the show on Halloween.
Ladybird leotard costume (age 3-12yrs); £14-£18, Marks and Spencer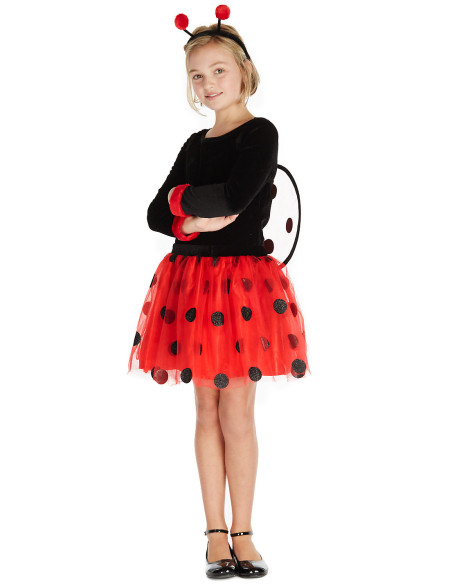 This ladybird costume is ideal for sophisticated Halloween goers up to 12 years-old. The easy to wear leotard is great for running around at parties and with removable wings it can be worn simply as a dress at any time.
Hatley, dinosaur slippers (S-L); £15.00, Selfridges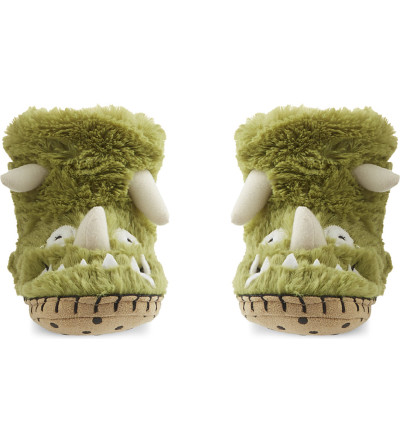 These really are the most adorable slippers for any little monster. Superbly soft with padded feet, they will keep any mini Halloween party goers warm all night and the embroidered face designs on the feet are just fantastic.
Tulle ghost dress (1½ - 2yrs - 9-10yrs); £9.99, H&M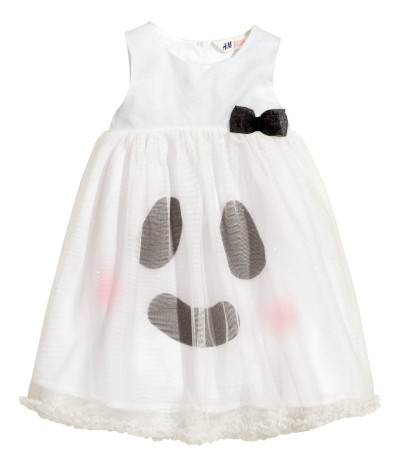 A sweet way to update the usual attempts at ghost outfits. Merging the ghoulish costume with a super sweet party dress complete with glittery printed design and tulle wings at the back, H&M have won us over.
Fendi Monster eyes leather sneakers (1-4); £180, Harrods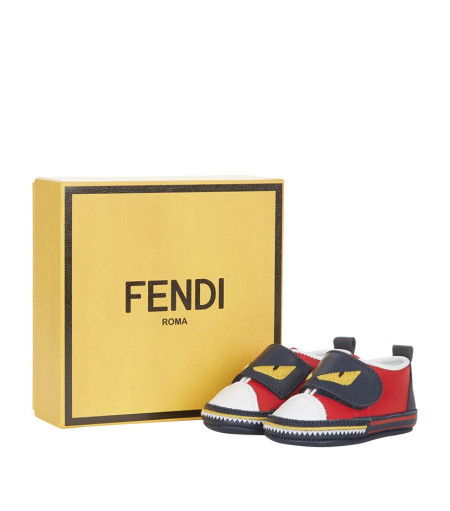 Fendi have translated their fantastic signature monster designs into all manor of goodies from backpacks to clutch bags but none of them have been as adorable as their childrens sneaker design. These are a brilliant luxury way for your little ones to dress up everyday.
Time to dress up, baby shark costume (6-12 months - 18-24 months); £45.00, NOT ON THE HIGH STREET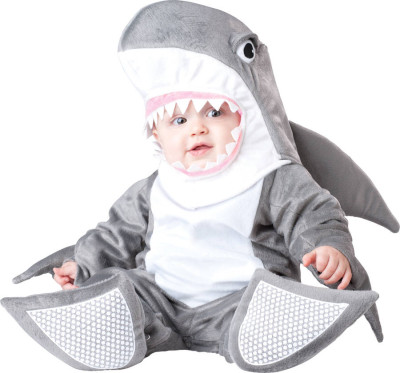 Aside from spiders, sharks will always be on our most frightening list, except when its a toddler pretending to be one that is. This soft and cuddly costume is a fantastic costume to really stand out from the crowd, especially if you're dressed as Martin Brody from Jaws.
Baby Skeleton All In One with Hat (0-24 months); £6.00, Tu at Sainsburys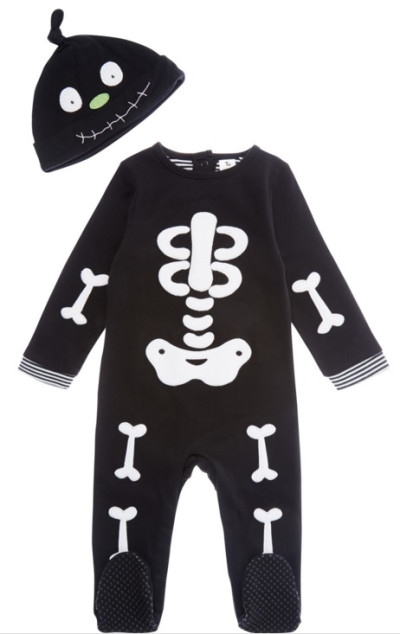 A classic Halloween fail-safe, the skeleton all in one will forever be an adorable addition to your babies wardrobe. Whilst it may be the perfect Halloween choice it is also one that can be worn again and again.
Flox Creative, 'Witch better have my money' babygrow (newborn - 18-24 months); £7.95, Amazon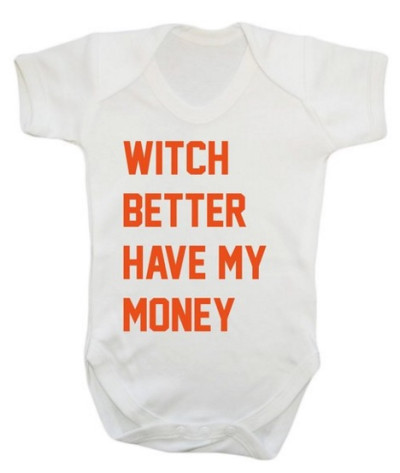 Yes, you read it right. Those of you who think this Rihanna inspired babygro is as incredible as we do, feel proud of yourself. After all, you may as well create some fantastic Instagram worthy material before your little one grows up and makes their own outfit decisions.
Baby Novelty Dress Up Dinosaur Outfit (0-3yrs), £19-20, John Lewis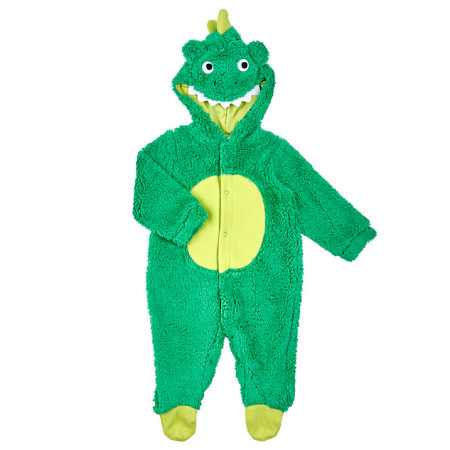 Making sure babies are wrapped up throughout winter is easy in this Travis Designs dinosaur suit complete with tail spines and padded feet for children under 12 months. The easy fasten poppers and hood make this ideal for everyday wear too.