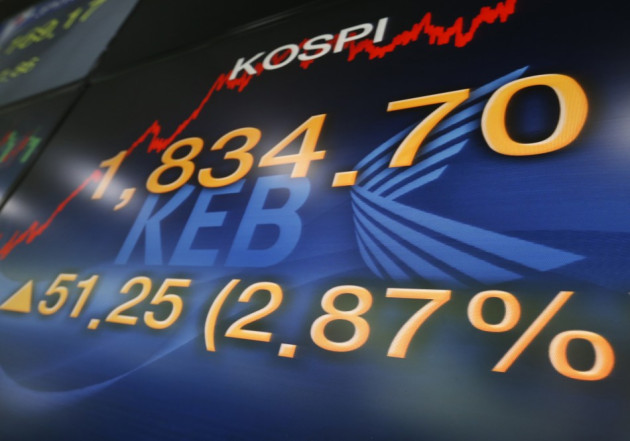 A majority of Asian markets opened higher after better-than-expected US economic data prompted gains on Wall Street.
However, investors exercised caution ahead of the European Central Bank's meeting later in the day and Friday's crucial US labour market data.
The Hang Seng was up 1.55% or 311.44 points to 20,458.75.
Australia's S&P/ASX inched up 0.80% or 37.90 points to 4782.00.
The Shanghai Composite index was up 0.57% or 11.45 points to 2005.72
South Korea's Kospi inched up 0.37% or 6.75 points to 1,831.41 points.
The Japanese Nikkei was down 0.44% or 61.24 points to 13,994.32, pulled down by a stronger yen that hurt exporters' stocks. Bank of Japan Governor Haruhiko Kuroda's comments earlier that central bank stimulus was helping place Japan's economy on track for a recovery failed to push the benchmark index into positive territory.
In the US, an ADP-sponsored survey pointed to improved private sector employment growth in June, beating expectations. The government's initial weekly jobless claims data logged a drop in claims - which fell to 343,000 from last week.
The US will put out non-farm payrolls data on Friday, which is expected to influence the US Federal Reserve's decision on bond purchases. The Fed has indicated that it could begin trimming its $85bn a month bond-buying programme later this year, if the American economy improves as the Fed expects it to.
On Wall Street, indices finished modestly higher on Wednesday on positive jobs data.
The Dow Jones Industrial Average finished 56.14 points or 0.4% higher at 14,988.55. The S&P 500 index ended 1.33 points, or about 0.1% higher at 1,615.41. The Nasdaq Composite ended 10.27 points or 0.3% higher at 3,443.67.
In Hong Kong, index heavyweight HSBC gained 2%. China Construction Bank added 2.3%.
Oil and gas major Cnooc gained 4%, after US crude oil futures stayed above the $101 level.
In Tokyo, advertising agency Dentsu dropped 11% on news that it proposes to sell 8 million new shares, amounting to $1.2bn.
Automobile manufacturer Nissan Motor dropped 1.9% while camera maker Canon shed 0.9% as a stronger yen pulled down exporters' stocks.
Petroleum major Inpex inched up 0.1% after US crude oil futures stayed above the $101 level.
In Sydney, Perseus Mining rallied 14% as gold prices rose.
Karoon Gas jumped 8.5% while Woodside Petroleum moved up 2.5% after US crude oil futures stayed above the $101 level.
Evolution Mining added 2.4% on news that its yearly gold production increased by 13%.
Steel products maker Bluescope jumped over 3% while building products maker CSR gained 2.5%.
In Shanghai, Chinese baby-care products firm Biostime International's stock tanked 12% on news that one of its units was under investigation for alleged violation of anti-monopoly law.
Bank of China fell 0.8% while Industrial & Commercial Bank of China shed 0.5% on news that loan disbursements by the top four banks in China fell in June because a cash crunch forced banks to reduce lending.
In Seoul, memory-chip makers LG Diplay and SK Hynix shed 2%.