Peter Dinklage celebrates his 45<sup>th birthday today. The actor shot to fame in 2003's The Station Agent and has since become world renowned for his role as Tyrion Lannister in Game of Thrones.
To mark his birthday, IBTimes UK has found 10 lesser-known facts about Dinklage.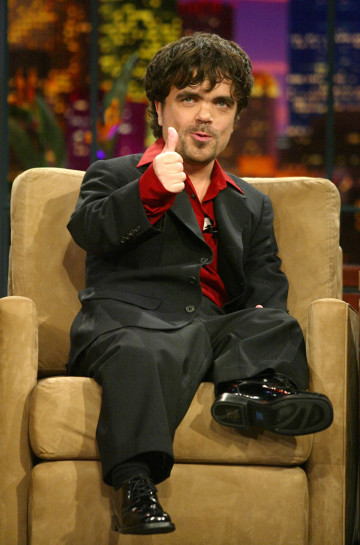 1. Dinklage was born 11 June 1969 in New Jersey. His parents are John Carl and Diane Dinklage – his father was an insurance salesman while his mother taught music in elementary school. He also has an older brother who is a violinist. He has German ancestors related to the ancient noble family von Dincklage from Lower Saxony.
2. He has achondroplasia, a common form of dwarfism that occurs as a sporadic mutation in most cases. In an interview in 2003, he spoke about his condition: "As an adolescent, I was bitter and angry and I definitely put up these walls. But the older you get, you realise you just have to have a sense of humour. You just know that it's not your problem. It's theirs."
3. Dinklage has been a vegetarian since he was 16 and eats tofu substitutes when required to eat 'meat' on screen. "I wouldn't hurt a cat or a dog – or a chicken or a cow. And I wouldn't ask someone else to hurt them for me. That's why I'm a vegetarian."
4. He was George RR Martin's first choice for Tyrion Lannister in Game of Thrones. According to reports, he was the first actor cast and did not even audition. In an interview with Salon, he explained accepting the role: "I told him I didn't want a really long beard and pointy shoes, and they assured me this character and this world wasn't that. They told me about his complexity, the fact that he wasn't a hero or a villain, that he was a womanizer and a drinker, and they painted a flawed and beautiful portrait of him, so I signed on."
5. He does not comb his hair. In a reddit AMA he said he does not own either a brush or a comb and that is his secret to his coveted locks.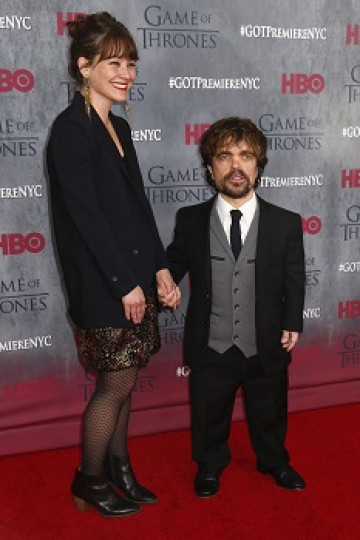 6. He married theatre director Erica Schmidt in 2005 and they had their first child, a daughter, together in 2011. The couple has collaborated on several projects together and live in New York.
7. Last year it emerged Dinklage does not watch Game of Thrones because he does not pay for the channel it is shown on: "I don't watch the show ... I mean, I don't have HBO," he explained.
8. Dinklage has taken a lion ring from the set of Game of Thrones.
9. He was once in a band called Whizzy that left him permanently scarred: "I was jumping around onstage and got accidentally kneed in the temple. I was like Sid Vicious, just bleeding all over the stage. Blood was going everywhere. I just grabbed a dirty bar napkin and dabbed my head and went on with the show. Now I have a pretty big scar that runs from the my neck to my eyebrow."
10. His family lived next to Bruce Springsteen's manager when Dinklage was two, so the-then 17-year-old rockstar would regularly come over and play guitar at his house. However, the actor does not remember any of it – but was told by his mother that "he was too loud".