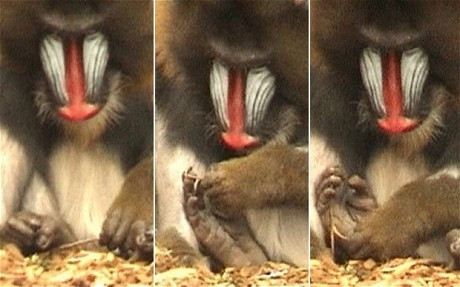 New footage has caught a mandrill monkey create a pedicure tool by pulling bark from a stick, granting new insights into the species' behavioural processes.
Published in the journal Behavioural Processes the new paper by Durham University scientists indicated that the monkey created and used the tool to remove dirt caught underneath its toenails.
To date only five species of Old World monkey have been seen making and using tools. Similar behaviour has been observed in several great ape species including orang-utans and chimpanzees -- who have previously been recorded using sticks to clean their teeth.
The beauty conscious mandrills were caught creating and using the tools during a study exploring their reactions to stress at Chester Zoo.
Speaking to the BBC, the scientist leading the project, Dr Riccardo Pansini commented on the research: "The gap between monkeys and great apes is not as large as we thought it was in terms of tool use and modification."
Pansini was quick to point out that the behaviour was atypical to that of normal wild mandrills.
Lending credence to the monkey-see-monkey-do catchphrase, Pansini indicated that the fact that the monkeys were in captivity and had regular interactions with humans as a possible reason for the new behaviour:
"Animals have more time in captivity to carry out tasks that are not focused on looking for food or mating ... we're witnessing the same behaviour that's used in quite important tasks being adapted for a less important task."