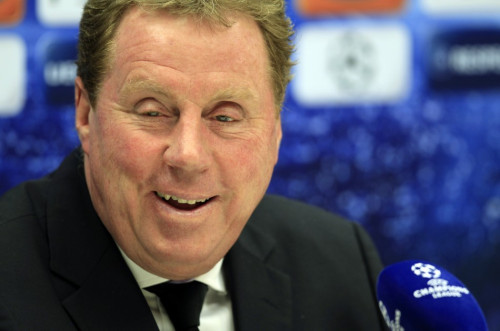 Queens Park Rangers manager Harry Redknapp believes his former club Tottenham Hotspur can finish above Arsenal this season.
The Gunners suffered a humiliating 5-1 defeat to Liverpool in their last league fixture at Anfield. The defeat to the Merseyside club has seen Arsenal lost their top spot in the league table.
They are second in the table with 55 points after Manchester City suffered to register a win over Norwich City. Arsene Wenger's side host Manchester United for the midweek fixture at the Emirates on Wednesday
Meanwhile, Spurs had a narrow 1-0 win over Everton at White Hart Lane on Sunday. Tim Sherwood's side are fifth in the table with 47 points and are eight points behind Arsenal. The Gunners are yet to visit the Lane for the north London derby.
The former Spurs manager has urged that it will be too early to write Sherwood's side in finishing the season above their arch rivals.
"I wouldn't write Tottenham off from finishing above Arsenal. It's still a possibility. They've got to go some, but it could still happen. Arsenal have still got to go to White Hart Lane," Redknapp told talkSPORT.
Arsenal have tough set of fixtures in February and March. They face United, Chelsea, Spurs, City and Everton in the league, before facing Liverpool in the FA Cup and treble winner Bayern Munich in the two legged tie in the Champions League in the knockout stages of the European competition.
Meanwhile, Arsenal midfielder Alex Oxlade-Chamberlain has urged his teammates to bounce back from the defeat they suffered at Anfield. The Gunners host David Moyes' side on Wednesday evening and the England international claims that his side needs to bounce back during the fixture against the Premier League champions.
"We are very disappointed, especially with the first half. We know we are better than that. So in that sense we are gutted," Chamberlain told Arsenal's official website.
"When the first goal went early you have to respond and 'see out' the next 10 or 15 minutes. We failed to do that and, credit to Liverpool, I thought they were brilliant and we were not up to scratch.
"But these things happen in football and it is our responsibility to turn that around and we have great opportunity on Wednesday night," he said.