Haven't upgraded to Windows 10? Microsoft has downloaded 6GB of files on to your PC anyway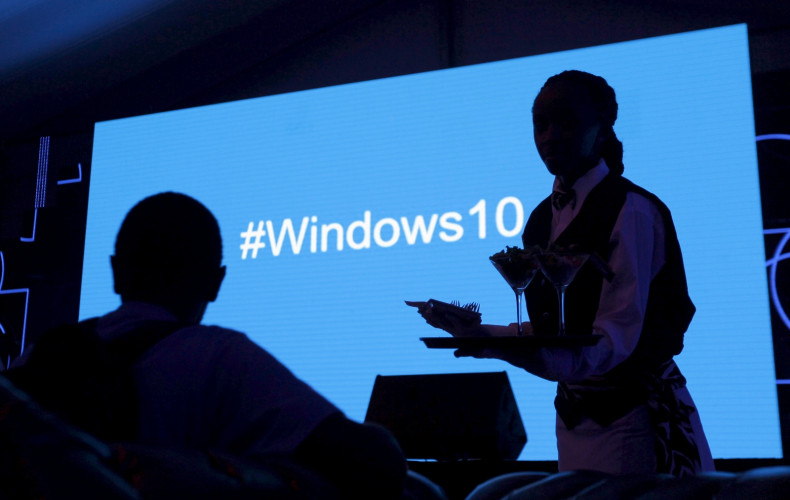 Microsoft is proactively downloading files pertaining to Windows 10 on to PCs, no matter whether users have said they would like to download the new computer operating system or not. Windows 10 officially launched around the world on 29 July and beforehand, users were invited to "reserve" a copy of the new operating system, which would be free to upgrade to from the launch date provided they were already using a licensed copy of Windows 7, Windows 8 or Windows 8.1.
Many people have now upgraded to the new operating system but for those who have not done so, or asked to reserve a copy of Windows 10, Microsoft is also sending out reminders. However, you might want to check and see if it has left you a little surprise too.
If your PC has automatic updates enabled and is running Windows 7, Windows 8 or Windows 8.1, then Microsoft has secretly installed up to 6GB of files pertaining to Windows 10 in a folder entitled "$Windows.~BT" in the root of your hard drive during a recent Patch Tuesday.
"For individuals who have chosen to receive automatic updates through Windows Update, we help upgradable devices get ready for Windows 10 by downloading the files they'll need if they decide to upgrade," Microsoft confirmed to The Inquirer on 10 September. "When the upgrade is ready, the customer will be prompted to install Windows 10 on the device."
But we didn't ask for this...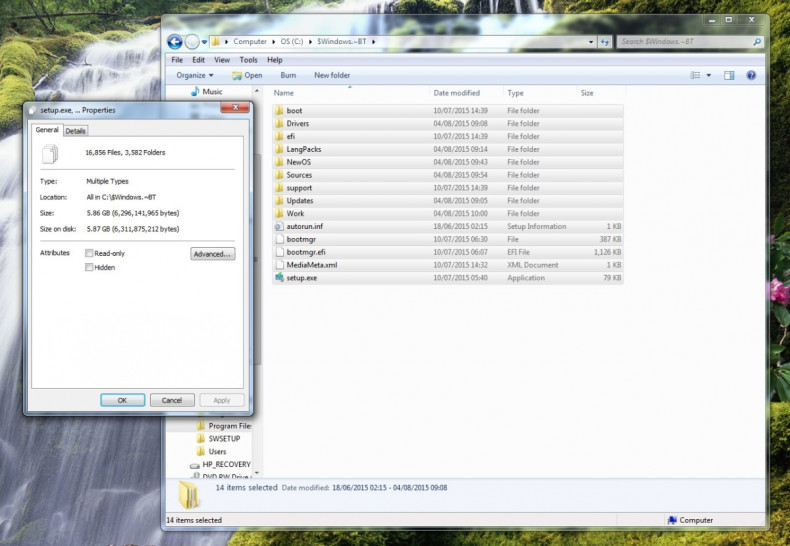 The thing is, until being asked directly, Microsoft had not told the public it would be installing these files on to PCs at all.
The only reason we now know about it is because bewildered PC users have been posting on forums online since the end of July asking why they now suddenly had a hidden folder in the root of their hard drives taking up so much space.
At IBTimes UK, we investigated our own computers and discovered that similar to the forum posters, we too now have a hidden folder located in the root of our hard drive at the address: C:$Windows.~BT containing drivers, images, language packs and even a setup executable application file, taking up 5.86GB of space.
Find it for yourself:
If you have a Windows PC where C: is where your Windows operating system has been installed, go to Windows Explorer and paste this address into the address bar to see if you have this folder too:
C:$Windows.~BT
Otherwise, find the drive where Windows is installed, go to the root and search for the $Windows.~BT folder.
So what can you do about this? If you eventually plan on upgrading to Windows 10, it is probably best you leave the file be or upgrade now to get your space back. However, if you are pretty sure you do not want Windows 10, it is safe for you to delete the folder – but it will take several steps.
AdditiveTips has published a simple guide explaining that you cannot simply delete the folder, as Microsoft will just download it again the next time it sends through routine Windows Update patches to your PC. Instead, you will have to uninstall the KB3035583 update and use the Disc Cleanup tool.
So far, there has not been a public outcry, the way there was when U2 decided to "gift" all iPhone users with their new album, Songs Of Innocence, in September 2014, but you never know.