Just days after Apple sparked fury for installing U2's new album in 500 million iTunes accounts without consent, the tech giant has been forced to launch a new app - simply to remove the album from customers' libraries.
When Apple launched their new iPhone 6 and iWatch last week with the Irish rockers sharing the stage, it emerged the album "Songs of Innocence" had appeared in every iTunes library in 119 countries as a marketing stunt - which backfired disastrously.
Although the album isn't physically on the device many customers didn't like U2, or having anything "smuggled" onto their operating systems without their knowledge. The biggest problem with the stunt was that once installed on a user's online cloud, it wasn't clear how to remove it. As one tweet put it:
"My iPhone has a virus called U2. how do I uninstall it?"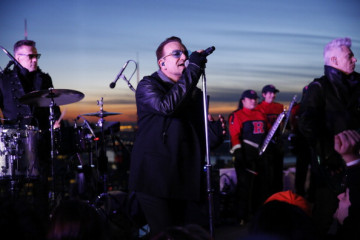 Some users - such as Graham Norton - found it vaguely sinister that Apple were able to access their devices without permission. Others joked about it. One tweet by @uvray_ read: "WARNING: DO NOT click on links offering free downloads of the new U2 album. They lead to free downloads of the new U2 album."
Now Apple has conceded that U2 aren't to everyone's taste, and decided to act.
"Some customers asked for the ability to delete 'Songs of Innocence' from their library," spokesman Adam Howorth told the BBC, "so we set up itunes.com/soi-remove to let them easily do so. Any customer that needs additional help should contact AppleCare."
To be fair to the creaking Irish rockers - who since forming in 1976 have had countless hits and been regularly acclaimed as the biggest band in the world - even when at launch singer Bono seemed to understand that perhaps not everyone on earth was a fan, writing on the band's website:
"People who haven't heard our music, or weren't remotely interested, might play us for the first time because we're in their library... And for the people out there who have no interest in checking us out, look at it this way... the blood, sweat and tears of some Irish guys are in your junk mail."
Although the stunt might have backfired for Apple, the band are laughing all the way to the bank. According to the New York Times: "To release U2's album free, Apple paid the band and Universal an unspecified fee as a blanket royalty and committed to a marketing campaign for the band worth up to $100 million, according to several people briefed on the deal."