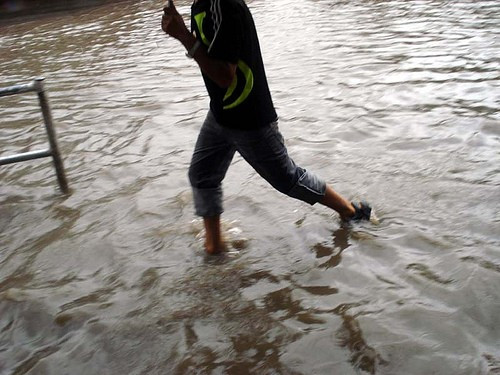 Flood alerts and heavy rain warnings have been issued across parts of southern England and Wales, as some areas experienced two inches of rainfall overnight.
The Met Office has issued an amber alert warning residents in east, southeast and southwest England to be prepared. There is also concern that further rainfall could badly affect areas in mid and west Wales, which have already been severely damaged by floods.
Some southern areas received more than two inches of rain - the average amount for the entire month of June - in just 12 hours.
The Environment Agency has also issued 40 flood alerts for parts of northern and southern England, the Midlands and Wales.
A flood warning has also been issued for the River Mole at Charlwood and Hookwood in Surrey and around Gatwick Airport in West Sussex and along Sidlow, Leigh and Betchworth in Surrey.
The Met Office warned: "Rain, heavy at times, will persist well into Monday, before gradually easing away westwards during the afternoon. Further thundery downpours are possible in the southeast later.
"The public is strongly advised to stay away from swollen rivers and not to drive through floodwater."
The warnings follow the evacuation of 600 resident from Pennal, near Machynlleth, Powys, north Wales, which was badly flooded over the weekend.
On 9 June, about 1,000 people were moved to safety following severe flooding in caravan parks and villages near Aberystwyth, with an estimated 150 people having to be rescued.
Firefighters in West Sussex received more than 80 flood-related calls overnight, including reports of a hospital and homes being flooded.
The Met Office said unsettled conditions were likely to remain throughout the month.