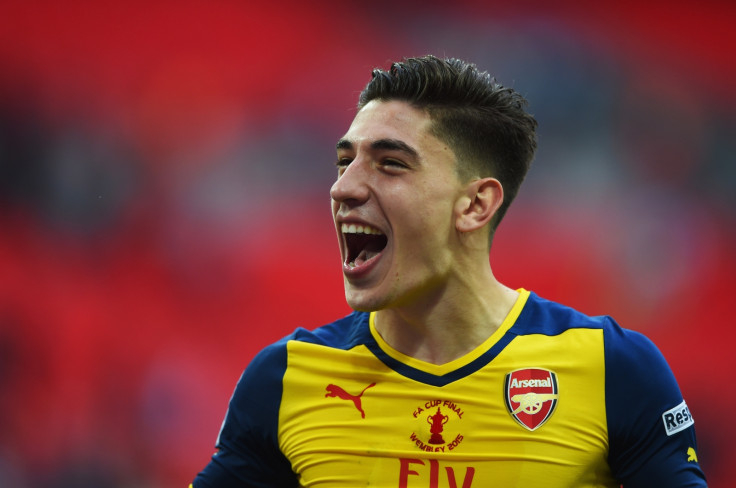 Arsenal fullback Hector Bellerin says it was the role of Cesc Fabregas that helped convince him to swap Barcelona for the north London club.
Bellerin, 20, left Barcelona's La Masia academy in 2011 to join the Gunners as a 16-year-old, an identical move Fabregas, now of Chelsea, made in 2003.
Following a season where the Spanish full-back has cemented his place in Arsene Wenger's first team plans, after almost leaving the club on loan at the beginning of the 2014-15 season, Bellerin has explained it was the rise of the ex-Arsenal captain that paved the way for his move to England.
"Cesc was a big inspiration," Bellerin told Arsenal Fan TV. "To see someone who made the same move and success, for me it was very important to see that happen.
"It was an important move for me, moving away from my family and friends and my city.
"But to see someone has succeeded as I said was really important and he showed that if you work hard, if you want it enough, you will always have a chance."
Bellerin made 20 Premier League appearances for the Gunners in the 2014-15 season, filling the void left by Mathieu Debuchy who suffered two serious injuries in his first season with the club following his arrival from Newcastle United.
The Spain Under-21 international recognises holding onto his first team role will be more difficult next season with Calum Chambers and possibly Carl Jenkinson, who spent last season on loan at West Ham United, also in contention, but is relishing the challenge ahead.
I just want to keep playing like the way I have been playing this year," he told FourFourTwo. "I know it is going to be really hard because Debuchy's back and I don't know whether Carl [Jenkinson] is going to be back so it is definitely going to be challenge.
"But, as I say, at the beginning of last season I thought my season was going to be totally different to what it was so when you ask me how I think it is going to be, I simply don't know. All I will do is work hard and try to cement my place in the starting XI."