Fears of a house price bubble are brewing thanks to the early 'success' of the Help to Buy Scheme, but are concerns overblown?
Leading house price data compilers, such as Nationwide Building Society and the Royal Institution of Chartered Surveyors, show prices hitting new highs each month. But this is the average price for the whole of the UK. Look below the headline number and the regional picture tells a different story.
Take the Office for National Statistics' House Price Index. Every region except for London and the south east is below its 2008 peak. Most are considerably lower, though the east of England is only slightly below, suggesting there is much slack in the housing market.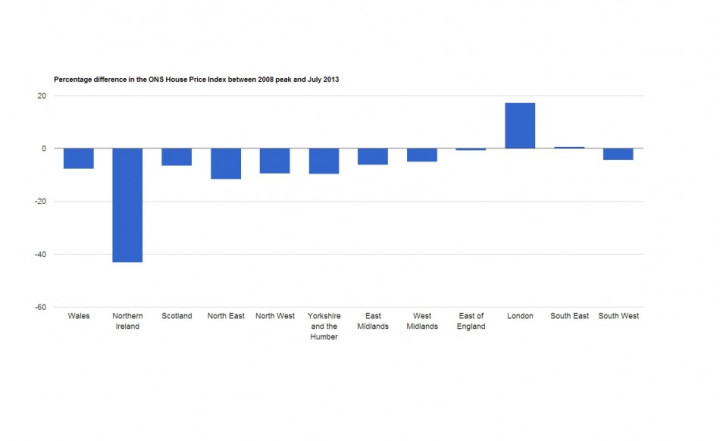 "My view is that the whole bubble issue is being over done. Yes the market is improving, but there is little evidence as yet that a new bubble is inflating," says Ed Stansfield of Capital Economics.
"That said, given that the last bubble in prices newer fully unwound, the last thing we need is for prices to run ahead of incomes once again. So we should not be complacent."
There are two parts to the Help to Buy scheme, launched by Chancellor George Osborne in his 2013 budget. The first offers first time homebuyers an interest-free equity loan of up to 20% of a property's value, to help bring down deposit costs and make mortgage payments smaller.
A second part of the scheme, which has got many critics worrying, is a government guarantee on consumer mortgages for banks. For a small fee, the government will underwrite a consumer mortgage to reduce the lending risk for a bank by offering to absorb some of the losses if things go bad.
Not only does this expose taxpayers to the vast financial burden of foreclosures, it could swell housing demand much more than equity loans alone can and at a time when supply is severely constrained. The guarantee will become available to banks in 2014.
"Given that the second stage of Help to Buy has the potential to give a far larger boost to demand than the first stage I think it is natural that people are worried," says Stansfield.
Capital Economics published a research paper doubting that the guarantee part of Help to Buy will be successful. It says the complexity of the guarantee is likely to put lenders off.
Moreover, even if there are more 95% loan-to-value mortgages made available, they will be expensive because banks will pass on the fee for using the guarantee as well as the administrative costs - making them expensive.
As the report puts it, the Help to Buy guarantee could end up a "flop".
The goal of Help to Buy is housebuilding. Osborne hopes that by swelling demand, market forces will take hold and spur on construction firms to build a wave of new affordable homes, all at very little cost to the government during a time of public sector austerity.
Fitch Ratings has already warned that it is unlikely building volumes will rise. Instead, banks will profit from lending more to consumers and builders will cash in on rising house prices.
London Housing
There's no escaping the fact that London's house prices are hurtling ahead of everywhere else. A number of factors feed in to this rise, which bucks the trend in in almost every other part of the country.
"It's true that we're seeing incredibly strong price growth in London, but actually the fundamentals are very strong as well," says Katie Evans, economist at the Centre for Economics and Business Research (CEBR).
"You've got massive demand and a complete lack of supply. Those two things together are going to cause serious increases in house prices. I think there are a few issues that are causing us concern, notably the foreign demand in London which is certainly causing some of these dramatic price increases.
"We'd shy away from using the term bubble a little bit simply because the fundamentals in London are so strong and with price growth having been quite weak for the last couple of years, we certainly see there's room for some catching up to go on."
Still, the second part of Help to Buy has the potential to push demand even higher and, if this does not increase supply, prices will bloat further.
Why build demand where it already exists in excess? Is there a case for excluding mortgages for properties in London from Help to Buy?
"The issue here is that even within London there is a huge gulf between the prime central London markets and the rest," says Stansfield of Capital Economics.
"Prices in ten London boroughs have yet to regain let alone exceed their early 2008 highs. So knowing where to draw the line if you were to want to apply Help to Buy to some markets but not others would be very difficult."
CEBR's Evans also argues London may be the best place for Help to Buy.
"In some cases, maybe that's where Help to Buy is actually needed most because it's actually where, in terms of the multiple a house price is of people's salaries, that's where the gap is biggest," she says, adding that another "obvious point is that, politically, limiting Help to Buy in London would be disastrous".
More Homes
For Gavin Smart, director of policy and practice at the Chartered Institute of Housing (CIH), the problem is clear: we aren't building enough houses in the country.
In 2012, just 100,000 housing starts were made by builders, despite many estimates putting demand needs at 250,000. The National Housing Federation cautioned that a rising population is putting a "massive strain" on the country's housing supply.
"CIH warned when Help to Buy was announced that the government would have to monitor it very carefully indeed to make sure it was not simply stoking up prices," says Smart.
"If you stimulate demand without also stimulating supply, there's going to be a problem. If there is evidence that Help to Buy is increasing prices rather than supply then government should consider amending the guarantee scheme due to be introduced in January or even scrapping it, either across the whole country or targeted by areas based on what the evidence shows."