Nigel Farage has for years rallied against the establishment and made his desire to get one over the Westminster elite public on more than one occasion.
Often spotted having a pint and a cigarette, the former Ukip leader's "man of the people" demeanour played a pivotal role in turning his party from outsiders into the star of British politics. However, a glance at Farage's finances shows the 53-year-old, whose estimated net worth last year stood at £2.4m ($3m), has in fact a lot more in common with the establishment he has so often berated than he would perhaps care to disclose.
A member of the European Parliament since 1999, Farage once claimed his EU salary and expenses were worth approximately £250,000 a year, meaning that according to his own calculations he earned around £3.75m in his first 15 years as MEP.
However, during an interview with one of the couples from Channel 4's show Gogglebox in 2014, Farage insisted he and his family were not as well off as some thought. "I don't know anybody in politics as poor as we are," he said, even though his wife was reportedly earning more than £30,000 a year working for MEP Ray Finch.
As of July last year, Farage's official annual salary stood at £84,221 with office allowances exceeding £40,000 a year, meaning when his wife's income is factored in, the household income exceeds £110,000.
Earlier this month, Kirsten Farage said she and her husband have been living "separate lives" for some years, but even without her contribution Farage's annual income places him comfortably within the 8% of British families classified as high-income, those with monthly earnings of £5,001 or more.
A month before last June's Brexit vote, Farage, who is ranked 745th out of 746 MEPs in terms of voting attendance, admitted claiming £15,000 in expenses to pay for his bodyguards.
Ironically for a man who has vehemently criticised the euro throughout his career, Farage's earnings received a 12% boost in the wake of the pound's sharp decline following the European Union referendum in June.
The former Ukip leader is paid in euros, meaning its €98,556 basic salary was worth £75,395 on 23 June, before the pound's slump triggered by the pro-Brexit vote saw sterling plunge from €1.30 to €1.17, which translated into a £9,000 increase to his salary.
Despite his five-figure salary, however, Farage has previously claimed he does not drive a flash car, has not taken a luxury holiday in a decade and only has one "small semi-detached house in the country". One which, admittedly, was worth an estimated £540,000 and one which he no longer lives in, since he is now sharing a £4m apartment in Chelsea with French-born Laure Ferrari, who heads a Eurosceptic grouping called the Alliance for Direct Democracy in Europe.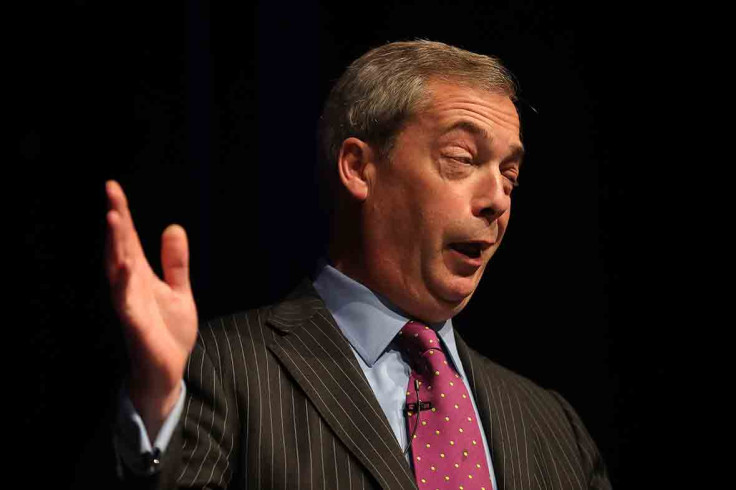 Three years ago, Farage, who from 1982 until 2003 worked in the traditional blue-collar role of commodities trader in the City across different firms, stated he was "not rich enough" to need a tax haven trust and admitted setting one up in the Isle of Man was a mistake.
The outspoken politician, who had previously lambasted tax avoiders in a speech to the European parliament, said he paid a tax adviser to set up the Farage Family Educational Trust 1654 on the Isle of Man.
However, the self-styled man of the people insisted the fund did him more harm than good and that he never received any financial benefits from it. "It was a mistake for three reasons," he was quoted as saying in 2014.
Earnings are 'a private thing'
"Firstly, I'm not rich enough to need one and I am never going to be. Secondly, frankly, the world has changed [...] Thirdly, it was a mistake because it cost me money. I sent a cheque off to set it up."
Farage's stance on tax avoidance was again brought into the spotlight following the Panama Papers scandal as then Prime Minister David Cameron vowed to crack down on malpractice.
Cameron and a number of high-profile politicians, including George Osborne and Jeremy Corbyn, released their tax return but Farage declined to do so. "It's a private thing. No. Big no," he told BBC Radio 4's Westminster Hour
"I'm worried where we are going with this. Actually, I think in this country what people earn is regarded as a private matter. Neighbours would hate the thought that the people at number 32 knew what their income was."