Whether it's in a sports bar, at the stadium or in a living room, football and beer have always enjoyed a close relationship. It might be cliched to suggest the two go hand-in-hand, but only the most disingenuous of individuals would say the pair are not strongly linked.
The relationship is also incredibly profitable. Heineken's sponsorship of the Champions League has helped the brewing giant raise its profile across the world, paving the way to sponsor other major sporting events.
"The deal with the Champions League is a great marketing partnership," the brewer's global sponsorship director, Hans Erik Tuijt, tells IBTimes UK.
"The Champions League is shown nine months a year, from Brazil to Australia and, more importantly from a sponsor's point of view, you also get the share of revenues from TV commercials. It is the perfect partnership."
Last week, the Dutch company extended its deal with European football's elite club competition until 2021. Heineken has been one of the Champions League's major partners since 2005, but its relationship with the competition goes back to 1994, when the tournament was sponsored by Amstel, one of Heineken's brands.
"Having such an experienced partner is invaluable to Uefa, and reinforces our efforts to continuously improve and promote our club competitions on a global level," said Uefa Events Marketing Director Guy-Laurent Epstein.
"The fact that Heineken renewed at an early stage in the process illustrates the continued strength of Uefa's sponsorship platforms."
The privilege of sponsoring club football's biggest competition, however, does not come cheap. Heineken did not disclose detailed figures of the new deal, but sports marketing consultancy IMR has calculated Champions League partners pay approximately $75m (£60m) per year.
The TV rights debate
According to industry figures, the competition is watched by approximately 4.2 billion people around the world each season. However in Britain, the largest TV market for Champions League games, audiences have declined since the matches moved away from free-to-air channels.
In 2013, BT paid £897m to gain exclusive broadcasting rights for the tournament, bringing an end to a partnership between ITV and Sky Sports, meaning the former would not show any games for the first time since 1992.
BT shows one free match for each British team each season on its BT Sport Showcase channel, but Tuijt has urged Uefa to consider returning some games to free-to-air TV once it renegotiates the UK broadcasting deal in 2018.
"I believe one game at least should be on public television," he says. "Access to all the other games you can buy. I am a big advocate to get solid reach, otherwise you won't remain relevant."
"If people want to see a specific match, then they pay for it. I think it's a very normal procedure to go through. It is important, however, that if you want to stay the best competition you need to make sure you have mass reach."
The latter is a very important concept for Heineken. Its marketing strategy is not limited to match days only, for the commercial events now span across numerous days. Since 2007, for example, Heineken has organised a tour that takes the Champions League trophy across the world – which has touched 35 countries so far – which allows fans to take a glimpse of "Ol' Big Ears", as the late Brian Clough affectionately described it.
The final is also preceded by days of events, which include appearance from former players and various other gimmicks. All of this has, of course, taken time to be developed, and Tuijt says the Champions League has been a learning curve for the brewer.
Social media has changed the field of play
The advent of social media has also revolutionised the way companies target their audiences.
In 2014, Heineken kicked off a global campaign carrying a #ShareTheSofa social media tagline, which saw football celebrities create and share hundreds of pieces of video content that were broadcast via Twitter live as the football matches were played.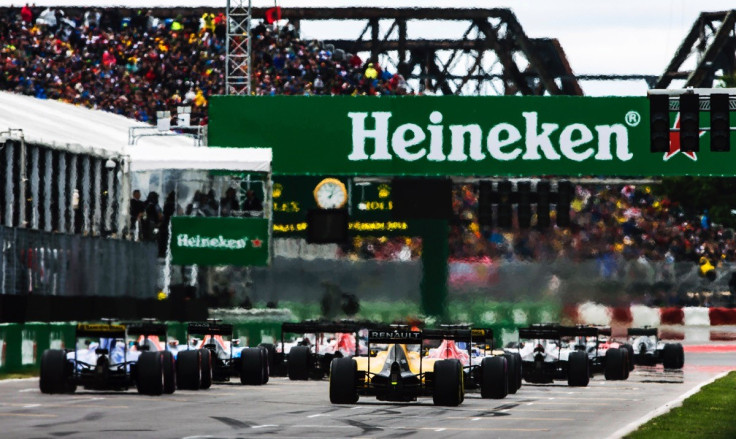 As a result, the company estimated that consumer engagement increased during each Champions League matchweek, as its advertising reached around 47 million fans. The campaign generated around 1.2 billion views and gave Heineken a 79% share of all conversations in relation to the Champions League sponsorship online, leading to a 7% increase in purchase intent in the target audience.
"New technology has changed the dynamics of sponsorship and of what we can do and, as result, we have been able to be a lot of more engaging. It's been hard work to understand the potential, but we have learnt that with preparation, you can get your message across and achieve incredible results."
The effort is clearly paying off, even in markets where football is not the main attraction. Across to BrandIndex, which tracks public perceptions of global brands across the world, the number of Americans aware Heineken sponsored the Champions League grew from 13% to 16% in the period between the quarter-finals and the semi-finals of the 2013-14 season.
Similarly, the number of respondents who stated they would buy a Heineken next time they're planning to have a beer rose from 14% to 17% over the same period. Both figures were well above the US beer sector average, which returned an awareness score of 11% and consideration score of 12%.
The partnership with the Champions League has also opened the doors to more sporting events. Heineken gave its name to the Heineken Cup — European rugby's premier club competition — from the tournament's inception in 1995 and has remained among the main sponsors even after the competition was re-branded European Rugby Champions Cup in 2014.
Last year, starting with the Canadian Grand Prix, the Dutch brewer became the official beer of the Formula 1 World Championship, highlighting its commitment to encompassing sports other than football.
"Our deals with rugby and Formula 1 are extremely strong partnerships and, for a brand that wants to be seen across the world, this is a great boost," Tuijt explains.
"As a sponsor, if you could choose, you would pick these events to have in your portfolio."