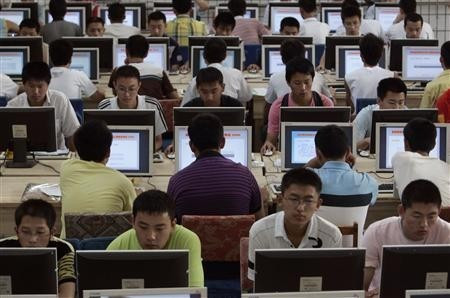 China's increasingly important services sector expanded modestly in May, but the rate of growth was almost unchanged from the previous month, suggesting that the growth momentum is slowing down in the world's second-largest economy.
The HSBC/Markit Purchasing Managers' Index (PMI) for the services industry inched up to a seasonally-adjusted 51.2 in May from 51.1 in April, the lowest reading since August 2011. An index reading above 50 indicates an expansion in the sector.
China's official services PMI, based on services and construction activities among other things, fell to 54.3 in May from 54.5 in April, according to the China Federation of Logistics and Purchasing and the National Bureau of Statistics.
The HSBC China Services PMI is based on data compiled from monthly replies to questionnaires sent to purchasing executives in more than 400 private service-sector companies.
A separate index gauging the manufacturing sector had earlier showed a reading of 49.2 for May, down from 50.4 in April, indicating a contraction in manufacturing activity across the nation.
The slower growth in the services sector, which accounts for about 46% of China's gross domestic product (GDP), along with the contraction in the manufacturing sector, is adding to concerns that the economy that posted a decade-low growth rate in 2012 is losing its recovery momentum.
A soft patch in manufacturing growth continues to weigh on this industry and adds more downside risks to China's growth rate in 2Q," HSBC's China chief economist Qu Hongbin said in a statement.
In the survey, a sub-index measuring new business orders declined to 51.4 in May from 51.5 in April. Another index measuring input prices for service providers rose at the slowest pace in 43 months, and a gauge of service charges declined for the first time in four months.
Meanwhile, an index of employment rebounded above the 50 mark from April's 49.6.
In the survey, nearly 25% of respondents expect activity to expand over the next year, while just over 3% expect contraction.
"The improving property market and Beijing's renewed effort on expanding VAT tax reform nationwide could lend some support for the service sector's future development," Hongbin added.