HSBC is allegedly eyeing up whether to sell its UK retail and commercial banking arm after a media report revealed that it has sounded out a number of investors for a potential flotation.
According to a Financial Times (FT) report, HSBC has asked investors whether they would support the sale of a sizeable stake in the UK business, which would partially reverse the group's landmark acquisition of the UK's Midland Bank more than 20 years ago.
The plan is tipped to be in very early stages but it is said to involve the listing of a minority stake of up to 30% in the UK retail and commercial banking operation.
HSBC declined to comment 'on media speculation' or on Bloomberg's Manus Cranny's comment [Figure 1] that debunks the FT report.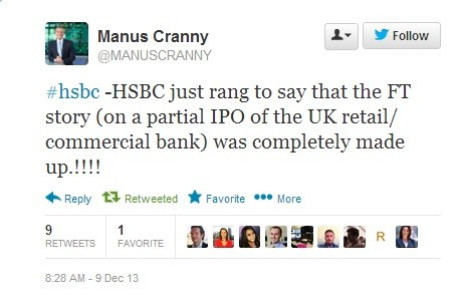 HSBC is expected to pay about £900m (€1bn, $1.5bn) of the industry's £2.2bn bank levy, to the Treasury this year following a raft of new regulatory measures that put pressure on profits, such as new ringfencing rules and higher capital requirements.
HSBC, overall, unveiled a 10% jump in profits for the third quarter this year following an aggressive cost cutting plan.
According to the bank's results statement, HSBC recorded an underlying pretax profit of $5.1bn for the three months to the end of September, up 10% from a restated $4.6bn last year.
HSBC revealed that profits would be bolstered by 46,000 job cuts made by May this year, alongside the selling or closure of 52 businesses since 2011.
Earlier this year, HSBC revealed that headcount could fall to between 240,000 and 250,000 by 2016.
The bank's chief executive Stuart Gulliver said at the time that he would redouble efforts to drive down costs and could cut 14,000 more jobs as part of his push to lift profitability and streamline the bank.
He said the job cuts would help HSBC save an additional $3bn by 2016.